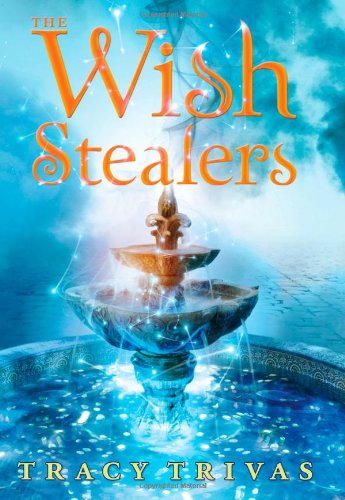 Publisher's Note:
When a sinister old woman leaves Griffin Penshine a box of twelve shiny pennies, she sets in motion a desperate quest—because the old woman was a wish stealer, and each penny represents a wish she stole from a wishing fountain decades earlier. Somehow, Griffin has to make things right, or the opposite of her own wishes will come true—and it could literally be a matter of life and death. The Wish Stealers introduces a new voice in middle-grade fantasy, as bright and sparkling as Griffin's pennies.
The Wish Stealers
by Tracy Trivas
Overall Review:
The Wish Stealers by Tracy Trivas is charming! Sixth grader Griffin Penshine loves to wish, but after being tricked into accepting a gift that transfers a curse, wishing becomes a problem and possibly even dangerous. The book's pacing is brisk with short chapters and plentiful action. A bonus is a pertinent quote at the end of each chapter--sometimes by well-known individuals, but often it is a common saying relating to wishes, luck, or pennies. As Griffin fought against being a wish stealer, she inspired me; I now have a sticky on my bathroom mirror reminding me: Don't be a wish stealer! This book is spot on middle grade magic. The setting is a contemporary middle school, but there is plenty of magic woven in with several valuable lessons about not leaving everything to luck and doing the work to make your wishes come true. Throwing a penny in a water fountain will never be the same for me!
Content Analysis:
Profanity/Language: None
Violence/Gore: None
Sex/Nudity: None
Mature Subject Matter:
Old age/illness of a family member.
Alcohol / Drug Use:
None
Reviewed By Cindy