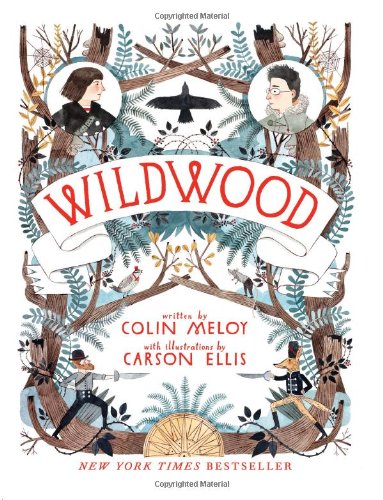 Publisher's Note:
For fans of The Chronicles of Narnia comes the first book in the Wildwood Chronicles, the New York Times bestselling fantasy adventure series by Colin Meloy, lead singer of the Decemberists, and Carson Ellis, acclaimed illustrator of The Mysterious Benedict Society.
In Wildwood, Prue and her friend Curtis uncover a secret world in the midst of violent upheaval—a world full of warring creatures, peaceable mystics, and powerful figures with the darkest intentions. And what begins as a rescue mission becomes something much greater as the two friends find themselves entwined in a struggle for the very freedom of this wilderness. A wilderness the locals call Wildwood.
Wildwood captivates readers with the wonder and thrill of a secret world within the landscape of a modern city. It feels at once firmly steeped in the classics of children's literature and completely fresh at the same time. The story is told from multiple points of view, and the book features more than eighty illustrations, including six full-color plates, making this an absolutely gorgeous object.
Supports the Common Core State Standards
Wildwood
by Colin Meloy
Overall Review:
The beautiful illustrations on the cover of this book are what initially interested me and made me pick up this hefty start to a trilogy. You might recognize the artist's style from The Mysterious Benedict Society (a yummy book, indeed!). I didn't know a lot about this book other than that it had a pretty picture on the front. Sometimes with children's books, that is all it takes to reel me in and make me fall in love. Wildwood was a little bit different though. For starters, it was a long book. I didn't get bored with the story per se, but I do have a difficult time wrapping my mind around dedicating the amount of time I did to this title again to read the next two books; I may just have to skip those. I felt like the story dragged a little in places, but this didn't cause me to want to give up reading it, it just made me curious as to how the author thought a middle-grade reader could finish the book without frustration.
This book would make a wonderful read-aloud to your child, if you have a kid that will let you read to them. I think lots of children and youth could enjoy this book, and if you are still a child at heart like me, you will adore this tale. It isn't believable by far--many things that happen could only be possible in a fairytale or alternate reality, but if you daydream about a secret land located just outside of your community and ruled by animals, then you will enjoy the journey Wildwood takes you on.
Content Analysis:
Profanity/Language: 3 religious exclamations; 1 mild obscenity; 1 scatological term.
Violence/Gore: A young child is abducted; children are mentioned to be injured by wild animals, some blood is mentioned and injuries briefly described; several times there are scary scenes involving animals and dark woods; a baby is injured by a wild animal; a man threatens to kill a child; one brief scene of war, casualties are mentioned; injuries and death sustained in war are mentioned briefly with some blood described; an evil queen makes conspires against innocent humans; a baby is injured and bleeds because of a wild animal; a man threatens to kill a child.
Sex/Nudity: Sex is alluded to; a woman is unable to conceive; adults kiss multiple times.
Mature Subject Matter:
Evil, war, child abduction.
Alcohol / Drug Use:
Adults smoke; adults drink; minors drink wine.
Reviewed By Lydia