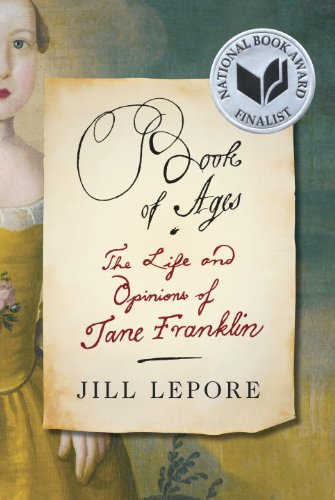 Publisher's Note:
National Book Award Finalist

From one of our most accomplished and widely admired historians, a revelatory portrait of Benjamin Franklin's youngest sister and a history of history itself. Like her brother, Jane Franklin was a passionate reader, a gifted writer, and an astonishingly shrewd political commentator. Unlike him, she was a mother of twelve.

Benjamin Franklin, who wrote more letters to his sister than he wrote to anyone else, was the original American self-made man; his sister spent her life caring for her children. They left very different traces behind. Making use of an amazing cache of little-studied material, including documents, objects, and portraits only just discovered, Jill Lepore brings Jane Franklin to life in a way that illuminates not only this one woman but an entire world—a world usually lost to history. Lepore's life of Jane Franklin, with its strikingly original vantage on her remarkable brother, is at once a wholly different account of the founding of the United States and one of the great untold stories of American history and letters: a life unknown.
Book of Ages: The Life and Opinions of Jane Franklin
by Jill Lepore
Overall Review:
Book of Ages: The Life and Opinions of Jane Franklin was not what I expected. Billed as "a revelatory portrait of Benjamin Franklin's youngest sister", I anticipated a stirring and informative biography. Sadly, as author Jill Lepore explains, little is actually known about Jane Franklin Mecom's life. Lepore does share what bits of information researchers have, which come mostly from letters Mecom kept from her big brother Benjamin. These letters, with their formal tone and inconsistent spelling, are sprinkled throughout the book and give a fascinating viewpoint of Jane, her family and the many trials she faced in her lifetime. Lepore also makes educated guesses about what Jane might have experienced, but much of the book discusses the time period, women's roles, and Jane's famous brother. Though Book of Ages has a misleading title, it's still a well-written and interesting work, especially for Revolutionary War and/or Ben Franklin enthusiasts!
Content Analysis:
Profanity/Language: 4 mild obscenities; 6 derogatory names.
Violence/Gore: Several reports of violence involving the Revolutionary War and suicide; a character is beaten; fire destroys buildings (no casualties) and a mob tears down a house (no casualties).
Sex/Nudity: Two sexual references; several implied or reported accounts of sexual activity, including mention of the "intrigues of low women".
Mature Subject Matter:
War, death of family members, illness, poverty, debt.
Alcohol / Drug Use:
Mention of drinking.
Reviewed By Rachel