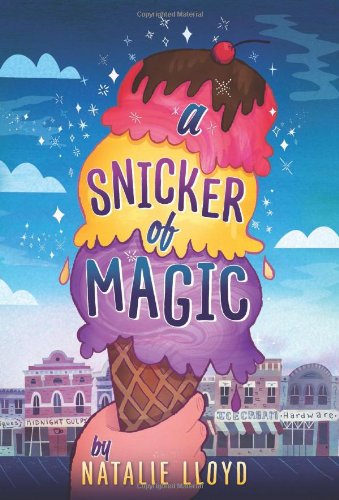 Publisher's Note:
Introducing an extraordinary new voice---a magical debut that will make your skin tingle, your eyes glisten . . .and your heart sing.

Midnight Gulch used to be a magical place, a town where people could sing up thunderstorms and dance up sunflowers. But that was long ago, before a curse drove the magic away. Twelve-year-old Felicity knows all about things like that; her nomadic mother is cursed with a wandering heart.

But when she arrives in Midnight Gulch, Felicity thinks her luck's about to change. A "word collector," Felicity sees words everywhere---shining above strangers, tucked into church eves, and tangled up her dog's floppy ears---but Midnight Gulch is the first place she's ever seen the word "home." And then there's Jonah, a mysterious, spiky-haired do-gooder who shimmers with words Felicity's never seen before, words that make Felicity's heart beat a little faster.

Felicity wants to stay in Midnight Gulch more than anything, but first, she'll need to figure out how to bring back the magic, breaking the spell that's been cast over the town . . . and her mother's broken heart.
This book was sent to Compass Book Ratings for review by Scholastic Press (A Scholastic Imprint)
A Snicker of Magic
by Natalie Lloyd
Overall Review:
A Snicker of Magic is about as perfectly titled a book as I have ever encountered. The story is quirky, imaginative, sparkling and sweet, and is as much or more about the journey and the wordcraft as the climax and resolution. Author Natalie Lloyd weaves a powerful spell that illustrates the magic of words, the power of love, and the strength of family--no matter its shape. This is a tale of a girl, a family, and a town each trying to find their way and their place in the world. The combination of quirky magic and Southern flavor is enchanting and just makes the reader smile.
Content Analysis:
Profanity/Language: None
Violence/Gore: None
Sex/Nudity: None
Mature Subject Matter:
Parent separation and abandonment.
Alcohol / Drug Use:
One character smokes cigarettes constantly.
Reviewed By Kristen