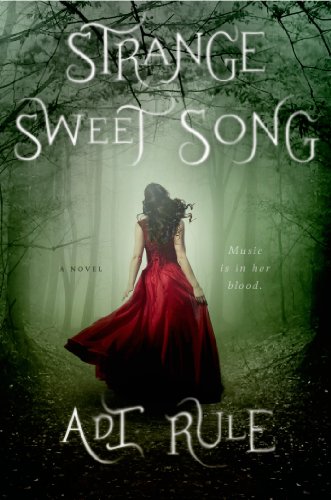 Publisher's Note:
Outside Dunhammond Conservatory, there lies a dark forest. And in the forest, they say, lives a great beast called the Felix. But Sing da Navelli never put much faith in the rumors and myths surrounding the school; music flows in her blood, and she is there to sing for real. This prestigious academy will finally give her the chance to prove her worth—not as the daughter of world-renowned musicians—but as an artist and leading lady in her own right.

Yet despite her best efforts, there seems to be something missing from her voice. Her doubts about her own talent are underscored by the fact that she is cast as the understudy in the school's production of her favorite opera, Angelique. Angelique was written at Dunhammond, and the legend says that the composer was inspired by forest surrounding the school, a place steeped in history, magic, and danger. But was it all a figment of his imagination, or are the fantastic figures in the opera more than imaginary?

Sing must work with the mysterious Apprentice Nathan Daysmoor as her vocal coach, who is both her harshest critic and staunchest advocate. But Nathan has secrets of his own, secrets that are entwined with the myths and legends surrounding Dunhammond, and the great creature they say lives there.

Lyrical, gothic, and magical, Strange Sweet Song by Adi Rule will captivate and enchant readers.
This book was sent to Compass Book Ratings for review by St. Martin's Press
Strange Sweet Song
by Adi Rule
Overall Review:
Strange Sweet Song by Adi Rule has a haunting quality that lingers with the reader long after the last word. The beginning of the book juxtaposes mystery and legend with the drama of a contemporary, competitive fine arts school. As the story progresses, these elements begin to intertwine; there is a gothic feel with a dash of romance and a magical element woven into the contemporary setting. Experiencing Dunhammond Conservatory, the reader catches a glimpse of the ultra-competitive and often cut-throat world of classical music. (If ever a book needed a playlist, this is it.) This element of the book--exploring passion for music--was one of its greatest strengths. The search of the 17-year-old protagonist, Song, to literally and figuratively find her voice and place is authentic in its struggle. Song is a heroine who stumbles along the way, but that is a large component of what keeps the reader's interest. Brilliantly, this novel is also terribly romantic at a few spots without being a romance. In spite of a few rough transitions, this novel was a compelling read. A Strange Sweet Song is highly recommended for young adult readers looking for something fresh and different from the usual young adult fads.
Content Analysis:
Profanity/Language: 10 religious exclamations; 19 mild obscenities; 1 religious profanity; 1 derogatory name; 3 anatomical terms.
Violence/Gore: Story told of death of a mythical creature; animal hunts and kills for food; animal kills human, no details; death of animals in natural disaster, non-detailed; statement that an animal killed people; report of death long ago by accidental drowning; character threatened at gunpoint; animal killed by gunshot.
Sex/Nudity: Characters kiss (teenagers); teenager (17) character kisses an older character (18+, but age is unspecified and probably around 20-ish); a character comes upon characters "tangled up in the heap of blankets" - no other details given; a character is said to be screwing around with someone; a character places hand on leg; characters hold hands.
Mature Subject Matter:
Death of family members.
Alcohol / Drug Use:
Adults drink socially; teenagers drink beer and wine coolers at a party.
Reviewed By Cindy