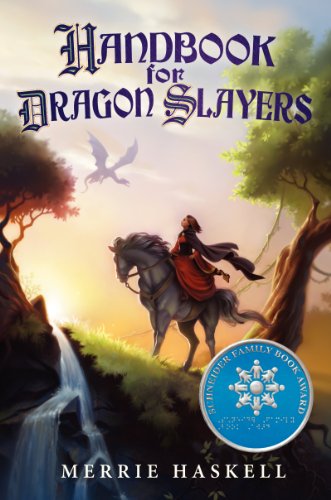 Publisher's Note:
Like Gail Carson Levine's books, Merrie Haskell's middle grade fantasy adventure Handbook for Dragon Slayers mixes magic, mythical creatures, thrilling action, and a wonderful cast of characters.
Political upheaval sends Princess Tilda fleeing from her kingdom in the company of two hopeful dragon slayers. The princess never had any interest in chasing dragons. The pain from her crippled foot was too great, and her dream was to write a book. But the princess finds herself making friends with magical horses, facing the Wild Hunt, and pointing a sword at fire-breathing dragons. While doing things she never imagined, Tilda finds qualities in herself she never knew she possessed.
Handbook for Dragon Slayers is a deeply satisfying coming-of-age tale wrapped in a magical adventure story.
Handbook For Dragon Slayers
by Merrie Haskell
Overall Review:
Handbook for Dragon Slayers by Merrie Haskell is a delightful middle grade fantasy with some refreshing elements. Although a fantasy, the setting is in Europe, in the vicinity of the Rhine, which is a nice change from the typical England setting. The heroine, Tilda, is a princess born with a crippled foot that constantly causes her pain and this gives her even more depth and texture beyond her resilience and loyalty. The storyline took a few unexpected turns along the way and incorporated a few surprises. This all added up to be a fun, adventurous, and at times, nuanced read. This isn't a typical "princess" book and with the title and plenty of dragons it may also appeal to any flexible boy readers, in spite of the female protagonist. Handbook for Dragonslayers is a great book for middle grade readers who love magic and the middle ages.
Content Analysis:
Profanity/Language: None
Violence/Gore: Report of death in Crusades; report of a broken limb; character is slapped; stories are told about how dragons are slain; shoulder injured by an animal; brief skirmish with a dragon; sounds of battle are heard and character comes upon injured characters, mention of blood with one of the injuries; destruction of property by animals; general reports of the death a man's wives; threat to kill/sacrifice a character for a magical ritual; animal kicks characters; a dragon is cut and there is a brief conflict with magic, swords with mention of blood.
Sex/Nudity: Character kisses a fantasy creature to break a spell; a character is naked after a magical transformation (non-sexual).
Mature Subject Matter:
Physical handicap/deformity.
Alcohol / Drug Use:
Mead, etc. sometimes consumed with meals.
Reviewed By Cindy