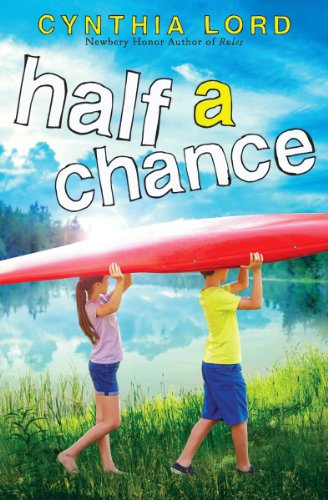 Publisher's Note:
A moving new middle-grade novel from the Newbery Honor author of RULES.

When Lucy's family moves to an old house on a lake, Lucy tries to see her new home through her camera's lens, as her father has taught her -- he's a famous photographer, away on a shoot. Will her photos ever meet his high standards? When she discovers that he's judging a photo contest, Lucy decides to enter anonymously. She wants to find out if her eye for photography is really special -- or only good enough.

As she seeks out subjects for her photos, Lucy gets to know Nate, the boy next door. But slowly the camera reveals what Nate doesn't want to see: his grandmother's memory is slipping away, and with it much of what he cherishes about his summers on the lake. This summer, Nate will learn about the power of art to show truth. And Lucy will learn how beauty can change lives . . . including her own.
This book was sent to Compass Book Ratings for review by Scholastic
Half a Chance
by Cynthia Lord
Overall Review:
Half a Chance by Cynthia Lord is a poignant look at how a family can be affected by Alzheimer's. Lucy, who has just moved to New Hampshire, befriends the next door neighbor, Nate, who is vacationing with his family and grandmother. Lucy has a passion for photography. Nate's grandma has a passion for bird watching. By combining these two hobbies in the story line, Lord captures the emotion of fighting for survival and capturing the moment, but also living in the moment, which in the end helps the reader to understand what someone with Alzheimer's is going through.
While Half a Chance is a seemingly simple read and gives you that nostalgic feeling of summers at the lake, it also has thought-provoking undertones. The reader comes away with an understanding of Alzheimer's as well as a commitment to live in the moment, not just observing it. Lucy learns throughout the book to put her camera down and just enjoy and to just feel, instead of hiding behind the lens, and that is a great lesson for anyone to remember. However, she also learns a valuable lesson about preserving memories and how important that is. In the end the memories are what bind us to one another, whether or not we can remember them--a lesson Lord gives us in this thoughtful novel.
Content Analysis:
Profanity/Language: None
Violence/Gore: None
Sex/Nudity: None
Mature Subject Matter:
Alzheimer's/aging
Alcohol / Drug Use:
None
Reviewed By Sally