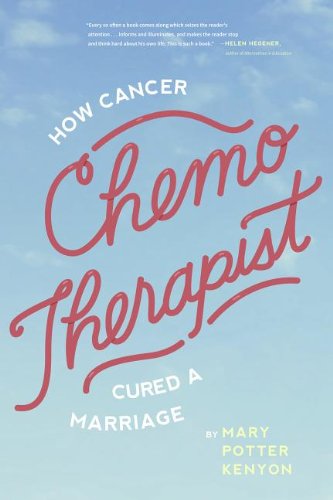 Publisher's Note:
When Mary Potter Kenyon's husband David was diagnosed with cancer she searched libraries and bookstores for books on cancer and the caregiving experience. What she discovered was a plethora of technical and medically-oriented books or those written by a caregiver whose loved one had died, a scenario she refused to contemplate. While serving as David's companion during Wednesday chemotherapy treatments, Mary began journaling about their experience as a couple and parents of young children as they navigated the labyrinth of cancer. It soon dawned on her that she was writing the very book she had searched for upon David's diagnosis: one that goes beyond the cancer experience to give hope and inspiration to the reader. Chemo-Therapist: How Cancer Cured a Marriage is much more than a memoir of caregiving through cancer. It is a moving testimonial of a love renewed by the shared experience of a life threatening illness.

"Initially, after David's diagnosis, I would cringe when I read books or articles by cancer survivors who stated that cancer had been a gift in their lives. How could all that David endured be viewed as a gift? The invasive surgery, the weeks of chemotherapy and radiation: a gift?
Yet, after the cancer, David would often reach for my hand and say, "If it is cancer that is responsible for our new relationship, then it was all worth it." And I'd reluctantly agree that cancer had been a gift in our lives."
This book was sent to Compass Book Ratings for review by the Author
Chemo-Therapist: How Cancer Cured a Marriage
by Mary Potter Kenyon
Overall Review:
It seems like every family is plagued by cancer of some sort. Maybe you yourself have cancer, or are a survivor. Perhaps a beloved family member passed away from this ruthless predator. Whatever your situation, I am almost certain the story told in Chemo-Therapist will touch your heart. Having recently lost my dear grandmother to cancer, I felt like I could relate a bit more to the story Mary tells in her new book. But even if I had not experienced a personal loss, this book is so powerful and touching in many ways that I still would have had chills as I read this memoir.
Mary shows us through her gift of writing how she took a situation that most would view as a living hell, and turned it into something that she felt was a blessing. She did experience losing a loved one to cancer, but instead of spending the time she had with that sick loved one being angry at God, she looked at her days and years as a bonus. Bonus time for someone she adored and could have lost much earlier. I think we can all look at her example and be able to learn something from it. Not only learn from it, but weave the way she appreciates life into the way we live ours.
Review was of an Advanced Reader Copy.
Content Analysis:
Profanity/Language: None
Violence/Gore: One scene of a woman having a baby is described with some detail; details involving cancer and the caretaking of wounds are described.
Sex/Nudity: An adult couple is mentioned to have sex several times; adults kiss; sex is alluded to twice.
Mature Subject Matter:
Cancer
Alcohol / Drug Use:
An adult is mentioned to smoke.
Reviewed By Lydia