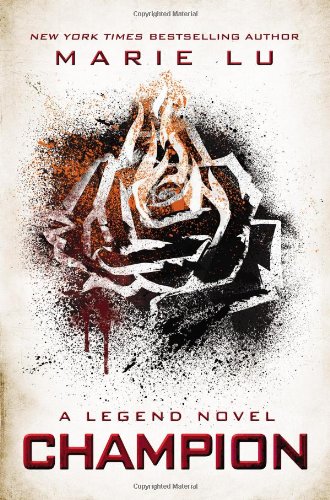 Publisher's Note:
The explosive finale to Marie Lu's New York Times bestselling LEGEND trilogy—perfect for fans of THE HUNGER GAMES and DIVERGENT!

He is a Legend.
She is a Prodigy.
Who will be Champion?

June and Day have sacrificed so much for the people of the Republic—and each other—and now their country is on the brink of a new existence. June is back in the good graces of the Republic, working within the government's elite circles as Princeps Elect while Day has been assigned a high level military position. But neither could have predicted the circumstances that will reunite them once again. Just when a peace treaty is imminent, a plague outbreak causes panic in the Colonies, and war threatens the Republic's border cities. This new strain of plague is deadlier than ever, and June is the only one who knows the key to her country's defense. But saving the lives of thousands will mean asking the one she loves to give up everything he has. With heart-pounding action and suspense, Marie Lu's bestselling trilogy draws to a stunning conclusion.
Champion
by Marie Lu
Overall Review:
A strong finish to the series! Marie Lu does not disappoint with this final installment in the Legend trilogy. June and Day are every bit as likable, every bit as compelling in Champion.
Yes, there's the obligatory dystopian love triangle, but this one is markedly different. These characters are so real, so well-written that I had trouble choosing a suitable partner for June. And unlike all the others, I felt extremely satisfied with the way things turned out--both for the Republic and June.
Marie Lu takes on societal ills and political machinations with a dexterity that belies her lack of experience. Her ability to depict human nature in all its complexities is inspiring--mostly because it doesn't hit the reader over the head. This is a series that will satisfy readers young and old--at any level of understanding. Champion will entertain everyone and leave more mature readers thinking deeply for a long time.
Content Analysis:
Profanity/Language: 37 mild obscenities; 1 religious profanity; 3 scatological words; 1 anatomical term.
Violence/Gore: A character talks about torturing others; a character thinks about what might happen under torture with some detail; a character remembers killing another person with some detail; a person is knocked out with a blunt object; a person is shot to death (no blood, but some detail); two characters are caught in a gunfight with no injuries; multiple characters are threatened with execution; a character is shot at repeatedly in an extended scene (4 pgs) with no injuries; two people engage in a knife fight with serious injury but no blood; a person is shot to death with some blood; a character is shot twice with no detail; two characters fight in hand-to-hand combat in an extended scene (4 pgs)--one character is shot to death during the fight.
Sex/Nudity: Two characters kiss, pinning one another against a wall, in an extended scene (2 pgs); a character daydreams about kissing; two characters hold hands; brief kissing scenes (5); minors are known to have had sex with no details in an extended scene (3 pgs); a character vaguely refers to previous sexual activity.
Mature Subject Matter:
Death of a family member, war, betrayal, homosexuality.
Alcohol / Drug Use:
An underage character smokes therapeutic cigarettes to alleviate symptoms of a terminal disease; wine is consumed socially.
Reviewed By Leslie