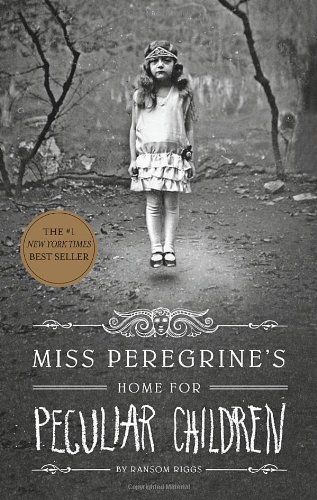 Publisher's Note:
A New York Times #1 best seller

On the New York Times Best Seller List for more than 52 consecutive weeks

Includes an excerpt from the much-anticipated sequel and an interview with author Ransom Riggs

A mysterious island.??

An abandoned orphanage.??

A strange collection of very curious photographs.??

It all waits to be discovered in Miss Peregrine's Home for Peculiar Children, an unforgettable novel that mixes fiction and photography in a thrilling reading experience. As our story opens, a horrific family tragedy sets sixteen-year-old Jacob journeying to a remote island off the coast of Wales, where he discovers the crumbling ruins of Miss Peregrine's Home for Peculiar Children. As Jacob explores its abandoned bedrooms and hallways, it becomes clear that the children were more than just peculiar. They may have been dangerous. They may have been quarantined on a deserted island for good reason. And somehow—impossible though it seems—they may still be alive. ??A spine-tingling fantasy illustrated with haunting vintage photography, Miss Peregrine's Home for Peculiar Children will delight adults, teens, and anyone who relishes an adventure in the shadows.
Miss Peregrine's Home for Peculiar Children
by Ransom Riggs
Overall Review:
Clever! Ransom Riggs has hit upon a brilliant idea for a story, incorporating his own imaginings about people in vintage photographs into a suspenseful, mystical, exciting story. My students can't get enough of the peculiars--they finally talked me into reading this intriguing book.
Unfortunately, the suspense and mystery take a little too long to develop. Riggs' idea may be unique and clever, but his writing is somewhat wooden. There's nothing really wrong with it, but it just seems to plod along and never really does anything remarkable. Lengthy parts of the book are devoted to exposition to the point of becoming boring. The action parts (starting about 2/3 of the way through) are creepy and thrilling, but I felt they came a little too late. If I hadn't been curious as to why so many of my students rave about it, I probably wouldn't have pressed forward. I'm still at a bit of a loss, since most kids won't keep reading after chapter one if a book isn't immediately compelling. But since they do love it and are excited for more, I'll back them up and say that there were redeeming qualities. If you're looking for a book that unfolds slowly and ends with a bang, this might be for you.
Content Analysis:
Profanity/Language: 11 religious exclamations; 24 mild obscenities; 5 religious profanities; 8 derogatory names; 19 scatological words; 11 anatomical terms; 2 offensive hand gestures.
Violence/Gore: A character threatens violent death to his enemies; people are believed to have been attacked by alligators; a character is violently attacked and dies in an extended scene (5 pgs); a body is excavated from an archeological dig--violent death is evident and described in some detail; a house is known to have been bombed with several casualties; mutilated animals are found and briefly described in some detail; a character is found brutally murdered and described in some detail (twice); an infamous serial killer's methods are briefly referred to; an animal is brutally killed in front of two characters with very little detail; a character kills a monster in a brief scene; a character is attacked and sustains a minor head wound; a character is shot and loses a lot of blood; a monster is killed after an extended fight (6 pgs).
Sex/Nudity: A character vaguely accuses a person of performing a sex act; a character is accused of committing adultery; two characters flirt; two characters kiss briefly, several times; a character is referred to as "horny".
Mature Subject Matter:
War, Holocaust, bullying, family problems.
Alcohol / Drug Use:
A minor is given alcohol twice; adult characters are seen drunk several times.
Reviewed By Leslie