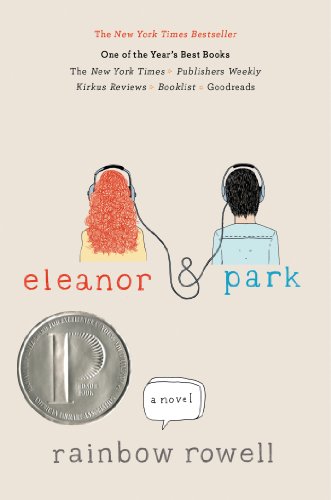 Publisher's Note:
Bono met his wife in high school, Park says.
So did Jerry Lee Lewis, Eleanor answers.
I'm not kidding, he says.
You should be, she says, we're 16.
What about Romeo and Juliet?
Shallow, confused, then dead.
I love you, Park says.
Wherefore art thou, Eleanor answers.
I'm not kidding, he says.
You should be.
Set over the course of one school year in 1986, this is the story of two star-crossed misfits—smart enough to know that first love almost never lasts, but brave and desperate enough to try. When Eleanor meets Park, you'll remember your own first love—and just how hard it pulled you under.
A 2014 Michael L. Printz Honor Book for Excellence in Young Adult Literature
Eleanor & Park is the winner of the 2013 Boston Globe Horn Book Award for Best Fiction Book.
A Publishers Weekly Best Children's Book of 2013
A New York Times Book Review Notable Children's Book of 2013
A Kirkus Reviews Best Teen Book of 2013
An NPR Best Book of 2013
Eleanor & Park
by Rainbow Rowell
Overall Review:
Eleanor & Park is a brilliant, believable study in opposites. Simultaneously innocent and edgy, their story is told in a way that evokes conflicting emotions--often at the same time. These sweet young people find each other at a time in life when they're both experiencing hardships no child should ever have to face. When they meet and befriend one another, a romantic and poignant story unfolds slowly and beautifully.
Told from two points of view, we get a glimpse into the tumultuous lives of both protagonists. These characters are at once hardened and tender--they ebb and flow in their relationship with a genuine quality that breaks the reader's heart. There's a softness and gentleness to the story that adds hope to the bleakness of a life lived among extremely dysfunctional adults.
The high level of objectionable content in the book is a storm that rages around Eleanor and Park. They are naturally affected by it, but committed to avoiding it themselves. Their goodness is what makes wading through the trash around them bearable.
Eleanor & Park is an absolutely compelling read. I couldn't put it down, wanting to know what would happen and whether or not everyone would end up safe and happy. Even though things didn't end up the way I expected, I was far from disappointed.
Content Analysis:
Profanity/Language: 74 religious exclamations; 12 mild obscenities; 9 religious profanities; 15 derogatory names; 16 scatological words; 18 anatomical terms; 57 f-word derivatives.
Violence/Gore: An adult character is known to be in a physically abusive relationship with screaming, crashing, gunshots, and fighting sounds heard from the next room--bruises are occasionally visible; two teenage boys get into a fistfight with some blood and minor injuries; several frightening scenes take place in which a child is fearful of receiving injuries from an adult; an abusive adult drives around town looking for a character and leaving threatening messages.
Sex/Nudity: A character is forced to bathe in a non-private area; two teenage characters hold hands frequently; two teenage characters kiss briefly 4 times (once passionately); a teenage character reminisces about kissing multiple people; a character kisses another character's hand; adults kiss briefly but passionately; bed springs are heard squeaking; a teenage boy is warned about not getting his girlfriend pregnant; a teenage boy is asked to give specifics about sexual activity (he refuses); several (9) vulgar remarks are made about girls wanting to have sex; a character's breast size is noticed and remarked on; a character is known to have looked at pornography; in an extended scene (4 pgs), teenage characters touch under clothing and remove some clothing without touching areas normally covered by a bathing suit; a car is seen rocking; a character escapes a situation in which she is certain she will be raped; after a brief scene with kissing and in which some clothing is removed, a character talks vaguely about "how far" she went with a boy, specifying that they didn't go "too far."
Mature Subject Matter:
Spouse abuse, divorce, bullying, attempted rape.
Alcohol / Drug Use:
Teens and adults are known to use marijuana. Teens and adults drink alcohol--both hard liquor and beer--and smoke. An adult character is repeatedly seen drunk.
Reviewed By Leslie