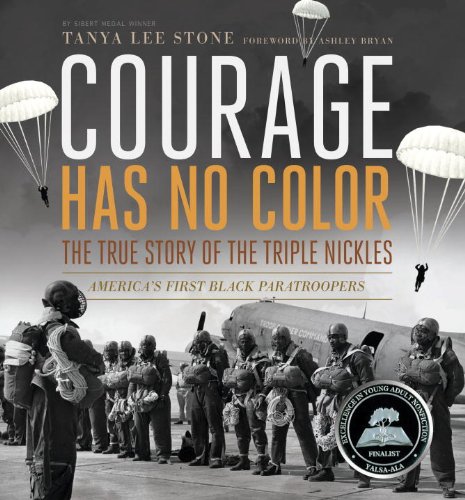 Publisher's Note:
A 2014 YALSA Excellence in Nonfiction Finalist

They became America's first black paratroopers. Why was their story never told? Sibert Medalist Tanya Lee Stone reveals the history of the Triple Nickles during World War II.

World War II is raging, and thousands of American soldiers are fighting overseas against the injustices brought on by Hitler. Back on the home front, the injustice of discrimination against African Americans plays out as much on Main Street as in the military. Enlisted black men are segregated from white soldiers and regularly relegated to service duties. At Fort Benning, Georgia, First Sergeant Walter Morris's men serve as guards at The Parachute School, while the white soldiers prepare to be paratroopers. Morris knows that for his men to be treated like soldiers, they have to train and act like them, but would the military elite and politicians recognize the potential of these men as well as their passion for serving their country? Tanya Lee Stone examines the role of African Americans in the military through the history of the Triple Nickles, America's first black paratroopers, who fought in a little-known attack on the American West by the Japanese. The 555th Parachute Infantry Battalion, in the words of Morris, "proved that the color of a man had nothing to do with his ability."

From Courage Has No Color
What did it take to be a paratrooper in World War II? Specialized training, extreme physical fitness, courage, and — until the 555th Parachute Infantry Battalion (the Triple Nickles) was formed — white skin.

It is 1943. Americans are overseas fighting World War II to help keep the world safe from Adolf Hitler's tyranny, safe from injustice, safe from discrimination. Yet right here at home, people with white skin have rights that people with black skin do not.
What is courage? What is strength? Perhaps it is being ready to fight for your nation even when your nation isn't ready to fight for you.
Courage Has No Color: The True Story of the Triple Nickles
by Tanya Lee Stone
Overall Review:
Award-winning author Tanya Lee Stone details the inspiring story of America's first black paratroopers in Courage Has No Color: The True Story of the Triple Nickles. Readers of all ages will enjoy this gorgeous book, with its large size, powerful text and dramatic photographs on nearly every page. Stone provides excellent background information about the progression of blacks in the military, as well as noting the rigorous requirements of paratrooper training during World War II. The story's material is incredibly well-researched and presented in an easy-to-read and informative manner. Readers will appreciate the firsthand and emotional accounts of the Triple Nickles themselves. I have a hard time believing this phenomenal story is not widely known and learned so much from its content. I encourage everyone, young and old, to read this book!
Content Analysis:
Profanity/Language: 1 religious exclamation, 1 mild obscenity, 1 derogatory name.
Violence/Gore: Implied occurrence of violence and verbal threat; reports of violence involving riots, physical beatings and the attack on Pearl Harbor; a non-detailed bomb blast kills a solider.
Sex/Nudity: None
Mature Subject Matter:
Racial discrimination and prejudice, stereotyping, war, death, Japanese Internment camps.
Alcohol / Drug Use:
Mention of smoking.
Reviewed By Rachel