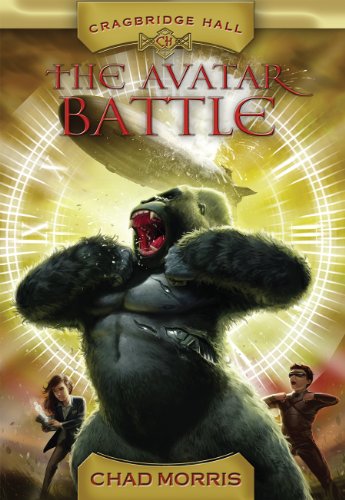 Publisher's Note:
The adventure continues when Abby and Derick begin second semester at Cragbridge Hall, the most prestigious secondary school in the world. But when Grandpa Cragbridge admits them to the Council of Keys--a secret group of people who have keys to travel back in time--strange things begin to happen. One by one, members are found unconscious and unable to wake, their keys stolen. Now Abby and Derick must scramble to figure out who is behind the attacks before they become the next victims, which would give their enemy the power to change the past forever. A page-turning, time-travel adventure that teaches powerful lessons about choice and consequence, believing you can do hard things, and valuing history.
This book was sent to Compass Book Ratings for review by Shadow Mountain
Cragbridge Hall Book 2: The Avatar Battle
by Chad Morris
Overall Review:
The Avatar Battle, Chad Morris' sequel to The Inventor's Secret, delivers on all expectations. Abby and Derick's adventure continues in their second semester at Cragbridge Hall. Morris keeps the story flowing with the further development of existing characters and the introduction of new ones. Second installments are sometimes a difficult bridge in a series, but this one continues to build and the plot continues to develop with several twists and surprises. Parents and teachers will enthusiastically support reading the Cragbridge Hall books because they teach the value of history and the lessons of the past, the power of endurance, loyalty, dedication, and courage to stand up for yourself and your values. Young readers will love the action, adventure, mystery, suspense, humor, the relatable characters, and the uplifting message that is taught without being preachy or obvious. This book continues the series' appeal to readers of all ages with a variety of interests, pulling one even further into the story and eagerly anticipating the next book!
Content Analysis:
Profanity/Language: None
Violence/Gore: Several characters threatened; two characters ambushed; one punched in the face, two characters fight, two knocked unconscious and thrown into a cell; simulated battle, gunshots, blood, bayonet charge; characters captured; several characters hit with tranquilizers and put into comas; fighting between people and robots; men knocked unconscious; battle damage to robots; characters kidnapped; robots destroyed; character threatened; two robots duel.
Sex/Nudity: Minor flirtatious comments.
Mature Subject Matter:
Kidnapping, Fighting, Historic Tragedies, Description of battle.
Alcohol / Drug Use:
Character's drinking habit mentioned.
Reviewed By Kristen