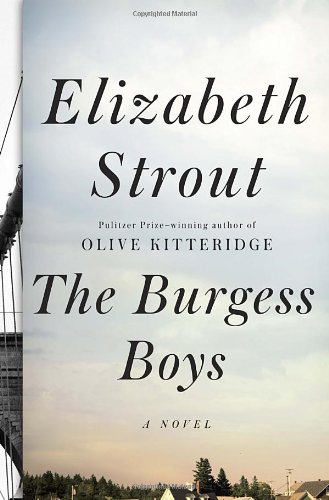 Publisher's Note:
NEW YORK TIMES BESTSELLER

NAMED ONE OF THE BEST BOOKS OF THE YEAR BY
The Washington Post • NPR • Good Housekeeping

Elizabeth Strout "animates the ordinary with an astonishing force," wrote The New Yorker on the publication of her Pulitzer Prize–winning Olive Kitteridge. The San Francisco Chronicle praised Strout's "magnificent gift for humanizing characters." Now the acclaimed author returns with a stunning novel as powerful and moving as any work in contemporary literature.

Haunted by the freak accident that killed their father when they were children, Jim and Bob Burgess escaped from their Maine hometown of Shirley Falls for New York City as soon as they possibly could. Jim, a sleek, successful corporate lawyer, has belittled his bighearted brother their whole lives, and Bob, a Legal Aid attorney who idolizes Jim, has always taken it in stride. But their long-standing dynamic is upended when their sister, Susan—the Burgess sibling who stayed behind—urgently calls them home. Her lonely teenage son, Zach, has gotten himself into a world of trouble, and Susan desperately needs their help. And so the Burgess brothers return to the landscape of their childhood, where the long-buried tensions that have shaped and shadowed their relationship begin to surface in unexpected ways that will change them forever.

With a rare combination of brilliant storytelling, exquisite prose, and remarkable insight into character, Elizabeth Strout has brought to life two deeply human protagonists whose struggles and triumphs will resonate with readers long after they turn the final page. Tender, tough-minded, loving, and deeply illuminating about the ties that bind us to family and home, The Burgess Boys is Elizabeth Strout's newest and perhaps most astonishing work of literary art.
The Burgess Boys
by Elizabeth Strout
Overall Review:
More than a story within a story, this book tells a tale of a family struggling to live in a town that has been invaded by foreigners. The Burgess family has endured a lot of grief, although the reader is never told outright exactly what kind of tragedy occurred. Whatever "accident" happened, it is obvious that the characters each carry their own load of guilt, and this guilt might even be echoing down through the generations to affect a teen who isn't old enough to remember what his family history holds.
This story is at times narrated by members of the Burgess family, and at others by the enemies this family encounters. Elizabeth Strout does a wonderful job of portraying each character in a positive light, even though at times it seems easier to view them negatively. I found myself sympathizing with each of the characters in turn, as they were so real and well-formed. I can't really tell of a specific reason why I enjoyed this book so much, but I did enjoy it. Sometimes I read a book and want to rave about it, but I can't find the words to say anything that would really do it justice. I found The Burgess Boys to be just such a book. This is a wonderful story that was just the right length to keep my full attention. If you are looking for a well-written book to read, why not give this one a try?
Content Analysis:
Profanity/Language: 10 religious exclamations; 15 mild obscenities; 3 derogatory names; 6 scatological words; 2 anatomical terms; 17 F-Word derivatives.
Violence/Gore: A boy is presumed dead and/or suicidal; physical and verbal abuse is mentioned several times; a boy is rumored to kill his father; a man is accused of abusing his wife; violence in war described briefly, no blood or gore is mentioned; a man is mentioned to have comitted suicide.
Sex/Nudity: Child porn is referenced, no detail is given; a man briefly describes a naked woman's body in a sexual way; a man cheats on his wife, this is mentioned multiple times; a rape is mentioned but not described in any detail; women talk about sex and their desire for it; male characters referred to as "sexy"; a man is accused of sexual harassment; adults kiss multiple times.
Mature Subject Matter:
Divorce, infidelity, war, racism.
Alcohol / Drug Use:
Marijuana use mentioned; adult drug use is mentioned; adults drink; adults smoke.
Reviewed By Lydia