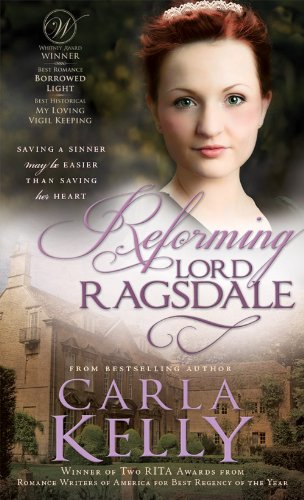 Publisher's Note:
Emma Costello owes a debt of honor to one of the most dishonorable lords in the realm. The infamous Lord Ragsdale is as sinful as he is rich and as heartless as he is handsome. But after he saves Emma from a life of indentured servitude and shame, she decides it is her personal duty to save him from his reckless ways... without his permission.
This book was sent to Compass Book Ratings for review by Cedar Fort
Reforming Lord Ragsdale
by Carla Kelly
Overall Review:
Fans of Victorian romance will enjoy Reforming Lord Ragsdale by Carla Kelly. The flow of the story follows that of other books of the genre--slow and easy, but steady. The characters are very predictable and follow the stereotypes expected. The fact that the book keeps with the expected norms is part of what makes it enjoyable.
Readers seeking thrills and excitement at every turn will want to look elsewhere. This novel is the type a reader can enjoy snuggled on a couch in a comfy blanket with a warm fire. The ending is satisfactory and nothing happens that will upset one's expectations for the story. True to form, there is a small mystery regarding one of the main characters, but as the author drops liberal hints throughout the pages, readers pretty much know what is coming.
Content Analysis:
Profanity/Language: None
Violence/Gore: Reports of characters being hung, killed in war, drug out of a house and being tortured; character imagines kicking a person down the stairs; characters grab and hit others.
Sex/Nudity: Non-married character has a mistress, no details; person disrobes for bathing; reference made to naked men; character thinks of making love; report of a person threatening to rape another; non-married characters kiss, hold hands and embrace.
Mature Subject Matter:
War, addiction.
Alcohol / Drug Use:
Adult consumes large quantities of many types of alcohol and is often drunk; character contemplates opium use.
Reviewed By Susan