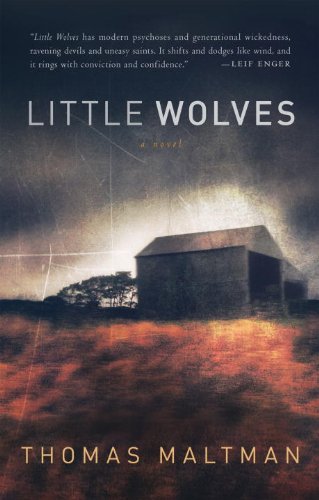 Publisher's Note:
A tragic act of violence echoes through a small Minnesota town

Set on the Minnesota prairie in the late 1980s during a drought season that's pushing family farms to the brink, Little Wolves features the intertwining stories of a father searching for answers after his son commits a heinous murder, and a pastor's wife (and washed-out scholar of early Anglo-Saxon literature) who has returned to the town for mysterious reasons of her own. A penetrating look at small-town America from the award-winning author of The Night Birds, Little Wolves weaves together elements of folklore and Norse mythology while being driven by a powerful murder mystery; a page-turning literary triumph.
Little Wolves
by Thomas Maltman
Overall Review:
If you are in the mood for a story that is filled with light mystery, ghosts, and murder, then Little Wolves might be the book for you. I had heard a lot of high praise surrounding this book before I picked it up. If I had not had it recommended to me, I probably would have passed it by. Don't let yourself make that mistake! I was quickly pulled in by this beautifully haunting story. At times brutal and raw, this tale is not one for those that are prone to nightmares, especially if you live in the countryside. Wild animals are mentioned often; more specifically coyotes (also known as "little wolves"...and they are fierce and blood hungry).
Told in alternating voices of two seemingly unrelated characters, this book kept me interested all the way through. There was rarely a dull moment, and if there was, the author's writing kept me wanting more. This book is based in Minnesota, and since I live nearby, that may have made this book feel more relevant to me. I do think that anyone could pick up this book, be it a man or a woman--city folk or country folk--and find it to be a story they enjoy through and through.
Content Analysis:
Profanity/Language: 9 religious exclamations; 19 mild obscenities; 2 religious profanities; 1 derogatory name; 5 anatomical terms; 7 F-Word derivatives
Violence/Gore: A boy makes plans to kill a character; a boy shoots a character and kills him; a boy commits suicide; a character is mentioned to have a heart attack; a beast is described in detail in one frightening scene; an abandoned baby is found; an individual is mentioned to have drowned; one frightening scene involving a character and a ghost; a young character is mentioned to be violent in school; a woman gives birth and it is described with some detail and blood; a child is mentioned to have been molested, no detail is given; animals are mentioned to be killed in a violent way; a boy is mentioned to shoot and kill his father, one brief scene is given but no detail or blood and gore; a woman imagines what it would be like to kill a man she hates; blood and gore are mentioned; a man is mentioned to abuse his wife and child, one example of this abuse is given; a man is mentioned to abuse children, with one scene giving brief detail of the said abuse; stories that are often scary are told to a young child; a wild animal attacks a character.
Sex/Nudity: Adults kiss; minors kiss; two minors are mentioned to go swimming naked and sexual innuendo is implied; a man and woman are mentioned to make love, but no detail is given; a man and wife have sex and there is one brief scene but little detail; a boy and girl flirt; a woman is described in a clinical, non-sexual way; a woman is mentioned to be having an affair.
Mature Subject Matter:
Ghosts, abuse, suicide, murder, loss of a parent.
Alcohol / Drug Use:
Adults smoke; adults drink; minors smoke; minors drink; a minor is mentioned to sell marijuana.
Reviewed By Lydia