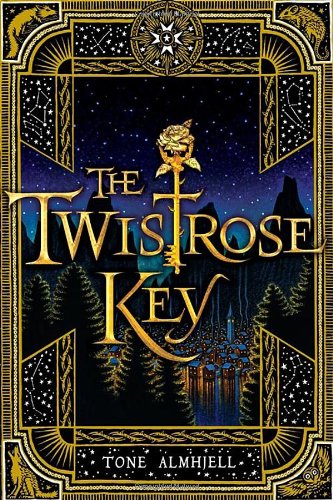 Publisher's Note:
Something is wrong in the house that Lin's family has rented; Lin is sure of it. The clocks tick too slowly. Frost covers the flowerbed, even in a rain storm. And when a secret key marked "Twistrose" arrives for her, Lin finds a crack in the cellar, a gate to the world of Sylver.

This frozen realm is the home of every dead animal who ever loved a child. Lin is overjoyed to be reunited with Rufus, the pet she buried under the rosebush. But together they must find the missing Winter Prince in order to save Sylver from destruction.

They are not the only ones hunting for the boy this night. In the dark hides a shadow-lipped man, waiting for the last Winter Prince to be delivered into his hands.

Exhilarating suspense and unforgettable characters await the readers of this magical adventure, destined to become a classic.
The Twistrose Key
by Tone Almhjell
Overall Review:
The Twistrose Key, by Tone Almhjell, has many of those endearing elements essential to fantasy: a magical portal to another realm, a brave protagonist, a quest, and a truly magnificent map. Unlike many middle grade fantasies, this novel had a unique feel. Perhaps that is because its author is Norwegian and the story-telling cadence and path diverge from typical American expectations. The author creates an atmospheric, icy world with action that seems oddly suspended from time. It is puzzling that although there was plenty of action and magic, this book was remarkably easy to put down and step away from. Inexplicably, it was not a gripping read. However, young lovers of animals and Narnia-like fantasy will most likely enjoy.
Content Analysis:
Profanity/Language: None
Violence/Gore: An animal is found dead, killed by a thorn in heart; magical condition causing character to bleed from ears and nose and experience pain upon a few separate occasions; animals fight; animal killed by strike to head; character injures foot; character grabbed and cut with thorns resulting in bleeding; verbal death threat; character kidnapped; character cuts wrists on accident resulting in recurring bleeding and stitches; sketches of a machine to inflict pain/torture upon a boy, some details; brief scene of pursuit and attack by fantasy creatures, biting and clawing; report of intentional drowning of an animal; brief struggle with pushing, explosion, and severance of an animal's tail, mention of blood; evidence of injuries on a character; report of a death; brief description/mention of blood in a magical item.
Sex/Nudity: None
Mature Subject Matter:
Death of a pet
Alcohol / Drug Use:
None
Reviewed By Cindy