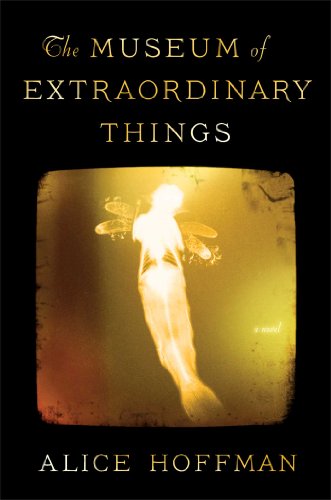 Publisher's Note:
Mesmerizing and illuminating, Alice Hoffman's The Museum of Extraordinary Things is the story of an electric and impassioned love between two vastly different souls in New York during the volatile first decades of the twentieth century.

Coralie Sardie is the daughter of the sinister impresario behind The Museum of Extraordinary Things, a Coney Island boardwalk freak show that thrills the masses. An exceptional swimmer, Coralie appears as the Mermaid in her father's "museum," alongside performers like the Wolfman, the Butterfly Girl, and a one-hundred-year-old turtle. One night Coralie stumbles upon a striking young man taking pictures of moonlit trees in the woods off the Hudson River.

The dashing photographer is Eddie Cohen, a Russian immigrant who has run away from his father's Lower East Side Orthodox community and his job as a tailor's apprentice. When Eddie photographs the devastation on the streets of New York following the infamous Triangle Shirtwaist Factory fire, he becomes embroiled in the suspicious mystery behind a young woman's disappearance and ignites the heart of Coralie.

With its colorful crowds of bootleggers, heiresses, thugs, and idealists, New York itself becomes a riveting character as Hoffman weaves her trademark magic, romance, and masterful storytelling to unite Coralie and Eddie in a sizzling, tender, and moving story of young love in tumultuous times. The Museum of Extraordinary Things is Alice Hoffman at her most spellbinding.
The Museum of Extraordinary Things
by Alice Hoffman
Overall Review:
If the cover of this book wasn't enough to make you look twice, the first few chapters will entice you and make you want more. I have read quite a few of Alice Hoffman's books, and some of them are astounding, while others leave me wishing for more. I would say that The Museum of Extraordinary Things is one of her better works that have been published recently. If you have ever read and enjoyed other books by this author, you won't want to miss this one. Told in alternating voices of the two main characters, this story gives the reader a close look at two ways of life in the early 20th century--a young woman who feels imprisoned by her life with her father, and a young man who is searching for a girl he has never met. I found myself more interested in the point of view of the young woman, Coralie, but when the young man was telling his part, my interest was not lost.
I have always been fascinated by the abnormal and curious. Museums and curiosity shoppes are two things that capture my interest, whether I am actually inside a building, or reading an article about them. This is probably why I was so drawn to this book, as the title hinted at a story about a museum filled with wonderful things. This book reminded me of Water For Elephants and The Night Circus...perhaps because of the style of writing, but also because of the subject matter. If you enjoy a little bit of romance with your history lesson, this book should be right up your alley.
Content Analysis:
Profanity/Language: 5 mild obscenities; 2 derogatory names; 4 anatomical terms; 1 F-Word derivatives
Violence/Gore: A character is found drowned; a fire causes many to perish; a character steals a precious item from a peer; a man beats a boy to death; verbal threats are mentioned; a man is accused of abusing his wife.
Sex/Nudity: Women mentioned to offer sex for money; a man accuses a woman of being a whore; women and children mentioned to be sold for sex; men mentioned to visit prostitutes; adults kiss; sex inferred, but no details are given.
Mature Subject Matter:
Death
Alcohol / Drug Use:
An adult smokes opium; adults smoke; adults drink.
Reviewed By Lydia