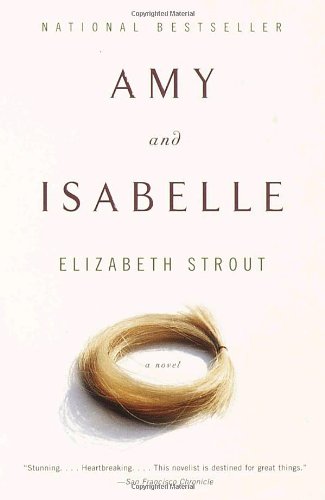 Publisher's Note:
National Bestseller

In her stunning first novel, Amy and Isabelle, Elizabeth Strout evokes a teenager's alienation from her distant mother—and a parent's rage at the discovery of her daughter's sexual secrets. In most ways, Isabelle and Amy are like any mother and her 16-year-old daughter, a fierce mix of love and loathing exchanged in their every glance. And eating, sleeping, and working side by side in the gossip-ridden mill town of Shirley Falls doesn't help matters. But when Amy is discovered behind the steamed-up windows of a car with her math teacher, the vast and icy distance between mother and daughter becomes unbridgeable.

As news of the scandal reaches every ear, it is Isabelle who suffers from the harsh judgment of Shirley Falls, intensifying her shame about her own secret past. And as Amy seeks comfort elsewhere, she discovers the fragility of human happiness through other dramas, from the horror of a missing child to the trials of Fat Bev, the community peacemaker. Witty and often profound, Amy and Isabelle confirms Elizabeth Strout as a powerful new talent.
Amy and Isabelle: A Novel
by Elizabeth Strout
Overall Review:
I have never read anything by Elizabeth Strout before, although her books have caught my eye more than once. With the release of a new book recently, I realized I should get acquainted with some of her works and see how I liked them. From the beginning of the story, this book grabbed my interest and didn't let me go. It was like being told a really juicy story by a good friend, one that I couldn't stop listening to, even though I knew I might regret what I would discover.
The characters in this book are well-formed and intriguing. You have your single mother, who is trying her best to parent her daughter--a girl in whom she sees so much of herself. And then there is said daughter--a girl who, from the outside looks like a meek and mild teen, someone who could never get herself into any trouble. But looks can be deceiving, can't they? The majority of the story is narrated by both mother and daughter, but several times throughout, we hear from other characters that play an important part.
I was highly impressed overall by this book. It was a good, solid story, though I think it was a good thing I waited to pick up this particular title, as the story focuses on many of the characters' sexual awakenings, and parts were very mature. If you are looking for a story with strong female characters and mother-daughter relationships as the main theme, this book was quite the stunner.
Content Analysis:
Profanity/Language: 32 mild obscenities; 11 religious profanities; 2 derogatory names; 4 anatomical terms; 19 F-word derivatives
Violence/Gore: A house fire is mentioned with one casualty; a man is suspected of murdering his wife, this is a mention with no details; a character is mentioned to have a heart attack; a girl is kidnapped and presumed dead; a dead body is found and described briefly; a character has a surgery and describes some medical specifics breifly; a girl gives birth and blood is mentioned briefly
Sex/Nudity: A minor is mentioned several times to be pregnant; a woman mentions having sex; a couple has sex multiple times, each time is described briefly and with some detail; a young teenage girl is in a sexual relationship with a middle-aged man, several scenes involving this couple and sex are briefly described; two detailed sex scenes involve nudity; a minor and an adult kiss multiple times; a young teenager is mentioned to have had two abortions; a girl mentions seeing her parents naked in bed; a woman refers to a couple having sex as "doing it"; a girl is mentioned to have been raped, no details are given; a girl jokes about having sex with her brother; two girls have a mature discussion regarding sex education and menstruation; a girl receives a sexually explicit phone call that is threatening; a girl imagines what having sex would be like; a man is mentioned to hire prostitutes, and one sex act is described briefly; a man speaks sexually of a girl's body.
Mature Subject Matter:
Teen pregnancy, infidelity, death of a parent, sexual awakenings.
Alcohol / Drug Use:
Adults and minors smoke; adults drink; a teen boy sells marijuana; a woman is mentioned to be an alcoholic.
Reviewed By Lydia