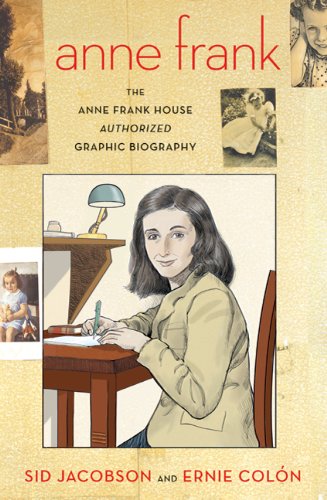 Publisher's Note:
Drawing on the unique historical sites, archives, expertise, and unquestioned authority of the Anne Frank House in Amsterdam, New York Times bestselling authors Sid Jacobson and Ernie Colón have created the first authorized and exhaustive graphic biography of Anne Frank. Their account is complete, covering the lives of Anne's parents, Edith and Otto; Anne's first years in Frankfurt; the rise of Nazism; the Franks' immigration to Amsterdam; war and occupation; Anne's years in the Secret Annex; betrayal and arrest; her deportation and tragic death in Bergen-Belsen; the survival of Anne's father; and his recovery and publication of her astounding diary.
Anne Frank: The Anne Frank House Authorized Graphic Biography
by Sid Jacobson
Overall Review:
This graphic biography will be an enjoyable (if intense) read for old friends and newcomers to the story of Anne Frank alike. Sid Jacobson's moving and sympathetic text, combined with Ernie Colon's realistic artwork and interspersed with actual photographs, make this a must read for anyone interested in learning more about the Holocaust.
While the events depicted in the story are horrific, there is a realness to Anne's story that allows young readers to feel great empathy for someone going through many of regular life struggles so like their own. With Anne's diary in the background, we learn about her everyday trials as well as the ones we can't imagine. We also learn more about her family and those that helped and were sheltered with her.
While Anne's diary ends abruptly and heartbreakingly, this biography brings us further along in the story, and we are able to feel the hope and love of Otto Frank, Anne's father, as he spends the remainder of his life sharing his daughter's courageous story.
I'll admit that it took me a couple of chapters to get into this book, but once I did, I really enjoyed the artwork and the story. The format is unexpected but perfectly suited to giving readers a visual experience that's just graphic enough to incite real emotion and deep empathy--which is the whole reason for reading about this period in history.
Content Analysis:
Profanity/Language: 2 religious exclamations.
Violence/Gore: NAZI soldiers sing about spilling Jewish blood; a man and child are chased by a soldier with a club; suicide is referred to; a person shoots another person at close range with very little gore shown; a man is seen lying dead in a pool of blood; people are seen being shot by soldiers and buried in mass graves; people are reported to have been beaten and killed by guns, grenades, and poisonous gas; people are seen being shot in silhouette with no gore.
Sex/Nudity: People are seen undressing and being herded naked into gas chambers; two characters kiss briefly; naked corpses are seen lying on the ground.
Mature Subject Matter:
War, genocide, concentration camps, disease, starvation, death of family members.
Alcohol / Drug Use:
None
Reviewed By Leslie