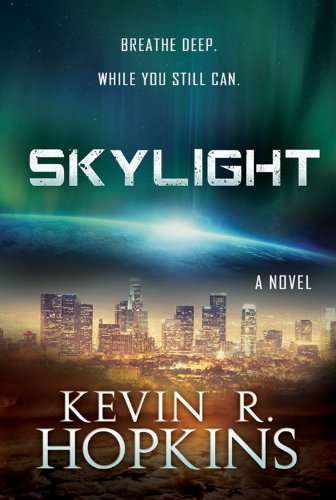 Publisher's Note:
One October night, millions died when the air suddenly became unbreathable. Miraculously left alive, Martin Fall journeys home to Los Angeles and watches as society collapses all around him, leaving him to pick up the pieces. But when he s recruited for a dangerous mission, he must confront his tragic past to rescue a technology that could save the earth from destroying itself.
This book was sent to Compass Book Ratings for review by Cedar Fort
Skylight
by Kevin Hopkins
Overall Review:
Remember doing those dot-to-dots as a kid? You would find your first dot and eagerly look for the next dot. Once it was connected, you would start hunting for the next number. Skylight by Kevin Hopkins reads like a dot-to-dot--the dots being the exciting action scenes and the connecting lines all of the verbiage between those scenes. The motivation for continuing to read the book was to get to the next action scene. These sequences were compelling and interesting. By the time the story concludes, you find you actually have a relatively complete picture upon which to reflect.
The author often interrupted the flow of the story to put in a reflection of past events. It seems the continuity of the story would have been better served by making these introspections a chapter or two by themselves and then fast forwarding to the present time of the book.
It was a challenge to like the characters in this book. Most of them were flat, or in the case of the main character, Martin Fall, just not very likeable. The most interesting characters are peripheral at best.
Although the story was rather far-fetched, as Kevin Hopkins himself admits, it allowed plenty of opportunity for introspection. Many of the technologies used in the book, including hydrogen fueled vehicles, aroused curiosity as to how these fuels had become stable and useful. Reading this book will not leave a reader with warm fuzzies and rainbows, but they might find the issues addressed worth considering.
Content Analysis:
Profanity/Language: 5 religious exclamations, 1 religious profanity (in Spanish), 2 derogatory names (in Spanish).
Violence/Gore: People shoot and kill others; dead bodies are described, including some blood; various explosions kill people and destroy property; various modes of transportation crash and include fatalities; characters attack other with different objects and with fists; people threaten other people with weapons; person killed by machinery; report of a domestic animal killed with a knife; adult character attacks pre-teen or young teen boys.
Sex/Nudity: Male character has naked torso; reference to wet dreams; unmarried characters have sex, details primarily focus on kissing and hugging beforehand.
Mature Subject Matter:
Death of family and friends, murder, global warming.
Alcohol / Drug Use:
Adult characters consume beer, scotch, and other alcohol; characters are said to be dealing drugs.
Reviewed By Susan