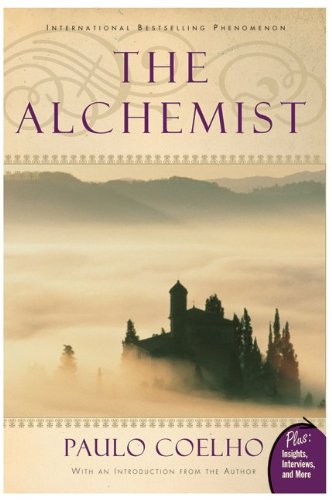 Publisher's Note:
Every few decades a book is published that changes the lives of its readers forever. The Alchemist is such a book. With over a million and a half copies sold around the world, The Alchemist has already established itself as a modern classic, universally admired. Paulo Coelho's charming fable, now available in English for the first time, will enchant and inspire an even wider audience of readers for generations to come. The Alchemist is the magical story of Santiago, an Andalusian shepherd boy who yearns to travel in search of a worldly treasure as extravagant as any ever found. From his home in Spain he journeys to the markets of Tangiers and across the Egyptian desert to a fateful encounter with the alchemist. The story of the treasures Santiago finds along the way teaches us, as only a few stories have done, about the essential wisdom of listening to our hearts, learning to read the omens strewn along life's path, and, above all, following our dreams.
The Alchemist
by Paul Coelho
Overall Review:
The Alchemist by Paulo Coelho is a lyrical fable, simply told, of an Andalusian shepherd boy searching for his destiny and his treasure. Stylistically, one can almost hear an ancient storyteller unfolding the story next to a fire under a canopy of stars. This is not a book about character development. This is not a book about plotline. This is a thinking book. Woven within the story are ideas and themes to be pondered and revisited. It is refreshing in an increasingly skeptical and secular society to hear a message regarding fate and faith; destiny and the divine. The cynical reader would say the book appeals to what people want to believe about life and destiny, but I think it rather reminds of truths that we all once knew, but have forgotten along our way. Beautifully begun, patiently paced, and eloquently ended, The Alchemist inspires personal evaluation and leaves a taste of hope for life's possibilities.
Content Analysis:
Violence consists of the report of wars, battles, and a hanging. A character is robbed and beaten, but a detailed account is not provided.
Profanity includes one mild instance.
Mature Subject Matter:
No difficult, mature thematic material is present, but the book's general themes would be most appreciated by readers 16 and older. Because this is a great discussion book , it would be an excellent selection for a book club.
Alcohol / Drug Use:
***
Reviewed By Cindy