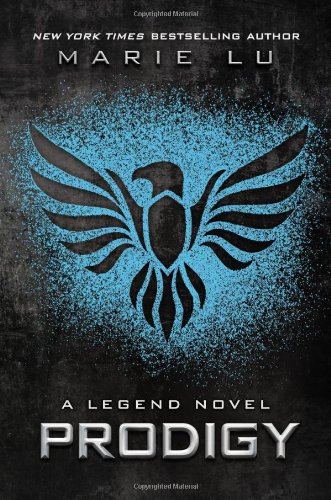 Publisher's Note:
Featured on Entertainment Weekly's MUST-LIST!

The highly anticipated second book in Marie Lu's New York Times bestseller, LEGEND—perfect for fans of THE HUNGER GAMES and DIVERGENT!


June and Day arrive in Vegas just as the unthinkable happens: the Elector Primo dies, and his son Anden takes his place. With the Republic edging closer to chaos, the two join a group of Patriot rebels eager to help Day rescue his brother and offer passage to the Colonies. They have only one request—June and Day must assassinate the new Elector.
It's their chance to change the nation, to give voice to a people silenced for too long.
But as June realizes this Elector is nothing like his father, she's haunted by the choice ahead. What if Anden is a new beginning? What if revolution must be more than loss and vengeance, anger and blood—what if the Patriots are wrong?
Prodigy
by Marie Lu
Overall Review:
Prodigy is a strong sequel to Legend--better, maybe, than the first installment. This is a highly plausible dystopian tale that engages the reader from page one. Marie Lu writes about troubling politics, treachery, and personal internal conflict with style and pathos. The two protagonists tell their stories from different points of view, which doesn't always work in literature but is a great asset to this story.
Republic soldiers, Colony fighters, and Patriot rebels all struggle to get ahead in a dark, hopeless world. Lu does such a great job with description that the reader can feel the dirt, pain, and intense desire for revenge these characters experience. These characters are real--their challenges even more so. The complicated politics of Lu's world are explained in a way that even young readers can understand what's happening. This book is 100 percent relatable.
There are some minor inconsistencies in characterization and plot that prevent me from giving this book five stars, but I doubt younger readers will notice them. They weren't enough to keep me from staying up all night reading, either. I'm very much looking forward to finishing up the series with Champion.
Content Analysis:
Profanity/Language: 16 mild obscenities; 1 religious profanity; 2 derogatory names; 3 scatological words; 1 anatomical word.
Violence/Gore: A character is shot and sustains a major wound with some description; three instances of hand-to-hand combat with some detail; two gunfights with minor details; a character is killed with a knife; a character is shot down in a plane and dies with some detail; a character undergoes surgery with some detail.
Sex/Nudity: Six instances of characters kissing briefly--twice passionately; prostitution is vaguely referred to; two characters pretend that they are looking for a place to have sex; a character helps another character into a bath in an extended scene with some sensuality but no nudity; characters refer to feeling warm when thinking of another person; brief, obscure innuendo.
Mature Subject Matter:
War, death of family members, abandonment of children, hunger/starvation, political backstabbing.
Alcohol / Drug Use:
Wine is moderately consumed in social situations; various unidentified drugs are taken for medical purposes.
Reviewed By Leslie