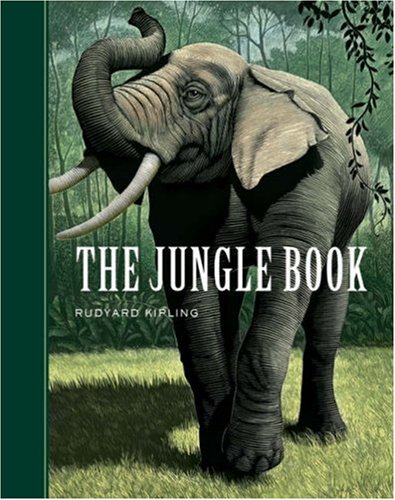 Publisher's Note:
Children will delight in this unabridged version of Rudyard Kipling's classics, Jungle Books One and Two! Not only does this attractive volume feature the beloved tales of Mowgli, the "man cub" raised by wolves, and Rikki Tikki Tavi, but also the lesser-known but wonderful stories of Toomai, the boy who gets to see elephants dance; Quiquern, who saves his Eskimo people from starvation; and Kotick, the white seal.
This book was sent to Compass Book Ratings for review by Sterling Publishing
The Jungle Book
by Rudyard Kipling
Overall Review:
Kipling's masterful way with words makes it easy to see why The Jungle Book has been a classic for so long! In this collection of fifteen stories (originally published as The Jungle Book and The Second Jungle Book), Kipling weaves tales of exotic animals from the lush jungles of India to the barren ice plains of Alaska. I was captivated by the beautiful descriptions, the well-developed characters, and the plots that were sometimes stirring, sometimes amusing, and sometimes both. The stories in The Jungle Book are timeless, bringing a different world to life in their pages. Although the old-fashioned high diction of the dialogue could be difficult for a young reader to follow, this would make a great read-aloud book! Themes of courage, honor, love, loyalty, and friendship make The Jungle Book a terrific read for all ages.
Content Analysis:
There is very mild profanity, consisting only of made-up oaths (i.e. "By the broken lock that freed me").

There is mild to moderate violence throughout the book, consistent with stories of the animal kingdom--animals hunt and kill other animals, occasionally an animal (or group of animals) is hunted or killed by a human, occasionally mention is made of a human being hunted or killed by an animal (nothing graphic is ever shown). Animals are skinned for their pelts. An animal is killed with a large gun and it is said that he is blasted into pieces. A kite (carrion bird) is mentioned throughout the book as feeding off of corpses (nothing is ever described). Although occasional mention is made of blood or dead bodies, nothing is graphic.

Although a few characters in the stories form mild romantic attachments, and in one story a boy and a girl are trapped in a storm and must spend several nights in a snow house together (the story is completely non-sexual), there is no real sexual content.
Mature Subject Matter:
Mature themes consist of death, jungle violence (i.e. hunting, predation, etc.), and corruption and greed.
Alcohol / Drug Use:
***
Reviewed By CindyB