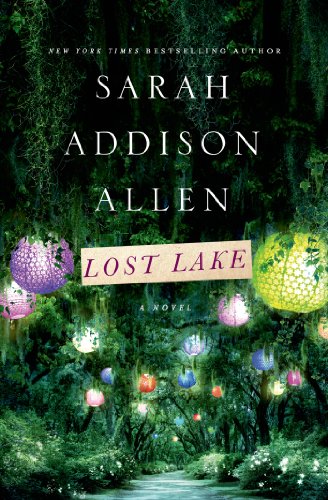 Publisher's Note:
From the author of New York Times bestseller Garden Spells comes a beautiful, haunting story of old loves and new, and the power of the connections that bind us forever…
The first time Eby Pim saw Lost Lake, it was on a picture postcard. Just an old photo and a few words on a small square of heavy stock, but when she saw it, she knew she was seeing her future.
That was half a life ago. Now Lost Lake is about to slip into Eby's past. Her husband George is long passed. Most of her demanding extended family are gone. All that's left is a once-charming collection of lakeside cabins succumbing to the Southern Georgia heat and damp, and an assortment of faithful misfits drawn back to Lost Lake year after year by their own unspoken dreams and desires.
It's a lot, but not enough to keep Eby from relinquishing Lost Lake to a developer with cash in hand, and calling this her final summer at the lake. Until one last chance at family knocks on her door.
Lost Lake is where Kate Pheris spent her last best summer at the age of twelve, before she learned of loneliness, and heartbreak, and loss. Now she's all too familiar with those things, but she knows about hope too, thanks to her resilient daughter Devin, and her own willingness to start moving forward. Perhaps at Lost Lake her little girl can cling to her own childhood for just a little longer… and maybe Kate herself can rediscover something that slipped through her fingers so long ago.
One after another, people find their way to Lost Lake, looking for something that they weren't sure they needed in the first place: love, closure, a second chance, peace, a mystery solved, a heart mended. Can they find what they need before it's too late?
At once atmospheric and enchanting, Lost Lake shows Sarah Addison Allen at her finest, illuminating the secret longings and the everyday magic that wait to be discovered in the unlikeliest of places.
Lost Lake
by Sarah Addison Allen
Overall Review:
Do you have a memory of your childhood, of a time and place where anything seemed possible and everything seemed perfect? Blissful with ignorance and a sense of safety and maybe a hint of magic made you feel loved and comforted. This is what Lost Lake is to the characters in Sarah Addison Allen's newest novel--a private getaway that people remember from their past and return to when they are in sore need of a vacation.
I have read every book by this author that I could get my hands on, and have never been disappointed. While I am of the opinion that her first few books are her best, the more recent novels are treats to be savored and wrapped up in--like a good cup of coffee and a warm blanket on a chilly day. With fully-formed characters who aren't afraid to be themselves, and enchanting descriptions of the place they live, Lost Lake reminds me of summers and sleep-away camp, warm nights and fireflies flitting in the dark. It reminds me of a memory of happiness and satisfaction. If you're looking for an endearing, quick read, this would be a good pick.
Content Analysis:
Profanity/Language: 7 mild obscenities; 3 religious exclamations.
Violence/Gore: A woman is mentioned to die in childbirth; a character dies from drinking too much alcohol; a character dies in a house fire; a character is mentioned to die in a house fire; a character is killed in a bike accident, no detail is given; a character attempts suicide by jumping off a bridge; a character is mentioned to kill himself by hanging; a character almost drowns, one brief scene involving this; a character is mentioned to be crushed to death; a man briefly talks of being beaten and abused both physically and verbally by his father
Sex/Nudity: Adults are mentioned to make love several times, no detail is given; two scenes of adults having sex with some vague description; adults kiss multiple times; men look at women as sex objects, talk about them as sex objects; a brief incident of a young man trying to take advantage of a girl sexually; two men are mentioned to cheat on their wives, no detail is given
Mature Subject Matter:
Death, loss of a parent, abandonment.
Alcohol / Drug Use:
Adults drink frequently; adult man is mentioned to be drunk.
Reviewed By Lydia