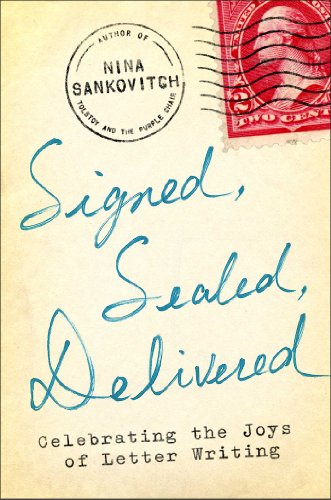 Publisher's Note:
The author of the much-admired Tolstoy and the Purple Chair goes on a quest through the history of letters and her own personal correspondence to discover and celebrate what is special about the handwritten letter.

Witty, moving, informative, and inspiring, Signed, Sealed, Delivered begins with Nina Sankovitch's discovery of a trove of 100-year-old letters written by a Princeton freshman to his mother in the early 1900s. Nina's own son is heading off to Harvard and she wants him to write to her, as the Princeton student wrote his mother and as Nina wrote hers. But times have changed. Before Nina can persuade her child of the value of letters, she must first understand herself exactly what it is about letters that makes them so special.

Sankovitch sets off on a quest through the history of letter writing—from the ancient Egyptians to the medieval lovers Abelard and Heloise, from the letters received by President Lincoln after his son's death to the correspondence of Edith Wharton and Henry James. Sankovitch looks at the power of letters through epistolary novels, her husband's love letters, and dozens more sources—including her son's brief reports from college on the weather and his allowance.

In this beautifully written book, Sankovitch reminds us that letters offer proof and legacy of what is most important in life: love and connection. In the end, she finds, the letters we write are even more important than the ones we wait for.
Signed, Sealed, Delivered: Celebrating the Joys of Letter Writing
by Nina Sankovitch
Overall Review:
Letter writing may be becoming somewhat of a lost art, but after reading this book, I am greatly convinced that it shouldn't. In this new age of computers, texting, and instant messaging it can be so easy to brush off the idea of picking up an actual pen and pad of paper and taking the time to write out a letter to someone. Postage rates rise and sometimes it is just so much faster to opt out of using old-fashioned mail to communicate. Not only is this dangerous for the future of the postal service, but children may just be missing out on the excitement of receiving a note in the mail, and (oh, the horror) they might not even know how to go about handwriting a letter.
Not so much a book about bringing the art of letter writing back, this book is instead a treasure trove of a collection of old letters and stories of letter writers that the author has become interested in. I was intrigued reading about lovers in the old days who were separated by miles and miles of land and maybe even a war, and their only option was to write a letter to their beloved. This book is educational and endearing, and one a fan of non-fiction will not want to miss.
Review of Advance Reader Copy
Content Analysis:
Profanity/Language: 2 mild obscenities; 1 anatomical term
Violence/Gore: A bomb explodes and kills and injures several people, no blood or gore is involved; a young child is mentioned to die; Jack the Ripper is referred to once, and how he killed prostitutes, some blood and gore is mentioned; a kidnapped baby is mentioned to be found dead; a woman is mentioned to be killed by a blow to the head, no blood is involved, but the scene is a little graphic; a woman is mentioned to have had a miscarriage, no details are given
Sex/Nudity: A man and woman write letters to each other and mention their sexual longing; a man is mentioned to experiment sexually with both men and women; a man is mentioned to be sexually abused, no details are given; a man is mentioned to write pornographic novels, with no detail given; an unmarried couple lives together; a man is mentioned to cheat on his wife; masturbation is mentioned briefly, with one brief scene that was not overly explicit; a young man and woman who are lovers touch each other in a sexual way, this is described in a very brief scene.
Mature Subject Matter:
Adult relationships.
Alcohol / Drug Use:
College students drink; college students smoke; adults drink; adults smoke; a man is mentioned to be addicted to laudanum.
Reviewed By Lydia