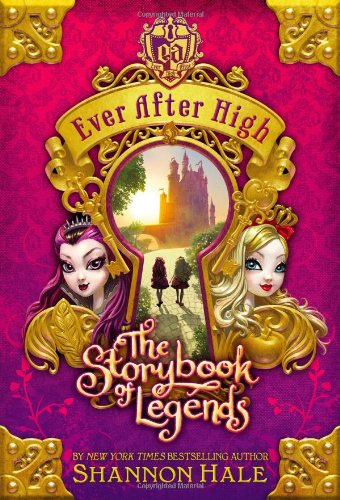 Publisher's Note:
At Ever After High, an enchanting boarding school, the children of fairytale legends prepare themselves to fulfill their destinies as the next generation of Snow Whites, Prince Charmings and Evil Queens...whether they want to or not. Each year on Legacy Day, students sign the Storybook of Legends to seal their scripted fates. For generations, the Village of Book End has whispered that refusing to sign means The End-both for a story and for a life.

As the daughter of the Evil Queen, Raven Queen's destiny is to follow in her mother's wicked footsteps, but evil is so not Raven's style. She's starting to wonder, what if she rewrote her own story? The royal Apple White, daughter of the Fairest of Them All, has a happy ever after planned for herself, but it depends upon Raven feeding her a poison apple in their future.

What if Raven doesn't sign the Storybook of Legends? It could mean a happily never after for them both.
Ever After High: The Storybook of Legends
by Shannon Hale
Overall Review:
Don't let the commercial hype scare you off--this is quality storytelling. Shannon Hale rises to the occasion and delivers a fun, exciting story that adds class to Mattel's doll franchise of the same name.
While not to the standard of some of Hale's other work, Ever After High is witty and clever, with oodles of allusions to pop culture that are laugh-out-loud funny. The characters are genuine and believable; the message is strong and clear--be yourself--without falling into the frequently-set trap that encourages young girls to throw over everything grown-ups stand for.
I couldn't put it down, and I'd have no hesitation in recommending it to young readers who are growing out of princesses and in to fantasy that's a little more mature.
Content Analysis:
Profanity/Language: None
Violence/Gore: None
Sex/Nudity: None
Mature Subject Matter:
None
Alcohol / Drug Use:
None
Reviewed By Leslie