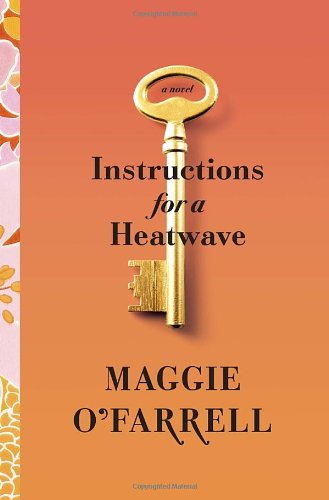 Publisher's Note:
Sophisticated, intelligent, impossible to put down, Maggie O'Farrell's beguiling novels—After You'd Gone, winner of a Betty Trask Award; The Distance Between Us, winner of a Somerset Maugham Award; The Hand That First Held Mine, winner of the Costa Novel Award; and her unforgettable bestseller The Vanishing Act of Esme Lennox—blend richly textured psychological drama with page-turning suspense. Instructions for a Heatwave finds her at the top of her game, with a novel about a family crisis set during the legendary British heatwave of 1976.

Gretta Riordan wakes on a stultifying July morning to find that her husband of forty years has gone to get the paper and vanished, cleaning out his bank account along the way. Gretta's three grown children converge on their parents' home for the first time in years: Michael Francis, a history teacher whose marriage is failing; Monica, with two stepdaughters who despise her and a blighted past that has driven away the younger sister she once adored; and Aoife, the youngest, now living in Manhattan, a smart, immensely resourceful young woman who has arranged her entire life to conceal a devastating secret.

Maggie O'Farrell writes with exceptional grace and sensitivity about marriage, about the mysteries that inhere within families, and the fault lines over which we build our lives—the secrets we hide from the people who know and love us best. In a novel that stretches from the heart of London to New York City's Upper West Side to a remote village on the coast of Ireland, O'Farrell paints a bracing portrait of a family falling apart and coming together with hard-won, life-changing truths about who they really are.
Instructions for a Heatwave
by Maggie O'Farrell
Overall Review:
I really didn't know a lot about this book before I started reading it. I knew the premise of the story, and the fact that the cover had a skeleton key (the copy I read did; I am mildly obsessed with skeleton keys). Every once in a while when I am not well-educated on a book and I read it, I will come across a gem. While I wouldn't say this book was a gem, I would say it was like a nice cool glass of lemonade in the midst of a sweltering day.
Reminiscent of The Unlikely Pilgrimage of Harold Fry, this story will in turns enchant you and amuse you. In the midst of angst among family members and old secrets, there is a certain underlying quality of love and companionship among the family this book depicts. There were times where I thought I knew exactly what would be coming next, and then the outcome of a situation would be completely different. The question I was left asking at the end was--were the motives of the characters purely their own, or were they influenced by the intense heatwave they were experiencing?
Content Analysis:
Profanity/Language: 6 religious exclamations; 11 mild obscenities; 8 religious profanities; 7 F-word derivatives
Violence/Gore: A pet is mentioned to have died; a character goes missing; a woman mentions having a miscarriage, but no details are given.
Sex/Nudity: A woman is mentioned to have slept with both men and women experimentally, no details are given; an unmarried couple is pregnant; an unmarried couple lives together and is mentioned to sleep together, no details are given; adults touch each other tenderly, little details are given; adults kiss; a married man has an affair, this is mentioned multiple times with no explicit detail.
Mature Subject Matter:
Missing persons.
Alcohol / Drug Use:
Adults drink; teens party; teens mentioned to be drunk; adults smoke; use of various drugs mentioned multiple times.
Reviewed By Lydia