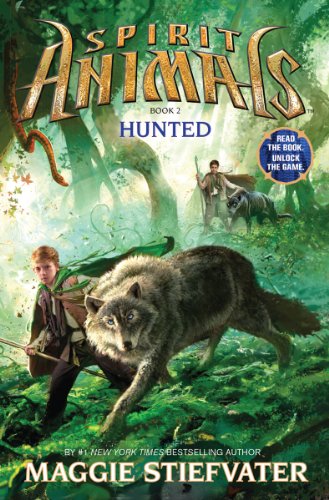 Publisher's Note:
The adventure continues in this second book of the epic multiplatform fantasy series.

In the world of Erdas, only a rare few are able to summon a spirit animal in the way Conor, Abeke, Meilin, and Rollan have. The bond they share with their animals is a partnership that allows them to access more-than-human abilities.

But what if there was another way to create a spirit animal--to force the bond, giving the human partner total control? And what if someone with selfish intensions was offered this gift . . . with a catch?

The four young heroes have barely had time to come together as a team, and their own spirit animal bonds are still greatly untested. But now they face a brutal confrontation against an enemy who will break any rule to defeat them.
This book was sent to Compass Book Ratings for review by Scholastic
Spirit Animals Book 2: Hunted
by Maggie Stiefvater
Overall Review:
Spirit Animals Book 2: Hunted is the second installment in Scholastic's new multi-platform adventure series. Maggie Steifvater does a laudable job in continuing the pace and characteristics set by Brandon Mull in the first book. As the four main characters continue to develop their relationships with their spirit animals, they also discover things about themselves and the world around them. Each character is distinct and separate from the others, and each likable in their own way. Each one's relationship with their spirit animal is also unique, providing contrast and balance at the same time. While the books seem to have minor depth and the plotline a tad predictable, the combination of fun characters, extra powers, a world to save, and animal interactions set up an entertaining adventure sure to hook young readers of a myriad of interests--and perhaps older ones as well.
Content Analysis:
Profanity/Language: None
Violence/Gore: Training skirmishes, characters punched and pinned, minor injuries; second-hand report of a battle massacre; battle violence, animals killed, people injured; verbal threats; character pinned; battle violence, fighting with animals, little detail; character slapped; character punched in stomach, jolted by electricity; character kidnapped; battle violence--people and animals fight, blood, character kicked in stomach, character's neck slashed, character gets staff in stomach; verbal threat against a character's family.
Sex/Nudity: Some subtle flirting.
Mature Subject Matter:
Death, battle violence.
Alcohol / Drug Use:
None
Reviewed By Kristen