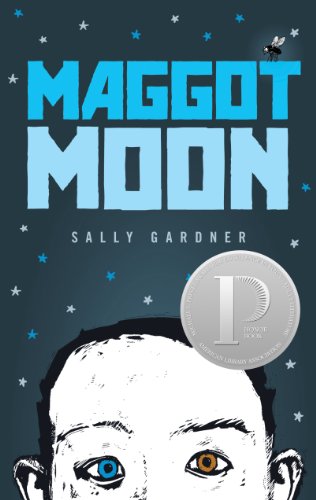 Publisher's Note:
A 2014 Michael L. Printz Honor Book

In Sally Gardner's stunning novel, set in a ruthless regime, an unlikely teenager risks all to expose the truth about a heralded moon landing.

What if the football hadn't gone over the wall. On the other side of the wall there is a dark secret. And the devil. And the Moon Man. And the Motherland doesn't want anyone to know. But Standish Treadwell — who has different-colored eyes, who can't read, can't write, Standish Treadwell isn't bright — sees things differently than the rest of the "train-track thinkers." So when Standish and his only friend and neighbor, Hector, make their way to the other side of the wall, they see what the Motherland has been hiding. And it's big...One hundred very short chapters, told in an utterly original first-person voice, propel readers through a narrative that is by turns gripping and darkly humorous, bleak and chilling, tender and transporting.
Maggot Moon
by Sally Gardner
Overall Review:
I have heard other people who read this book referring to it as a book they don't know how to categorize. I, too, felt that way when I was finished. Not really dystopian, historical fiction, general fiction, or fantasy...this book has a mixture of just about everything. Maybe that was what made it so enthralling and difficult to put down. The fact that the novel was kind of based on a conspiracy around the first moon landing was gripping and might even interest adults.
Throughout the book there are illustrations of rats and flies, which gives the reader more of an idea of what the characters are feeling and living with in this society where government rules all. The characters feel trapped and like death may be their only option. This book is an excellent one that I think every young adult should be sure to read. If the cover doesn't convince you, the first few chapters will.
Content Analysis:
Profanity/Language: 35 mild obscenities; 5 F-word derivatives
Violence/Gore: A young boy is beaten to death, blood is mentioned several times and the beating is described in detail; two characters get in a fistfight; government officials forcibly remove a person from their home; war violence is mentioned several times; government is described to abuse citizens who don't obey; a man slaps a boy; a teacher abuses children verbally and physically; children bully schoolmates
Sex/Nudity: None
Mature Subject Matter:
War, conspiracy theories.
Alcohol / Drug Use:
Adults drink; adults smoke.
Reviewed By Lydia