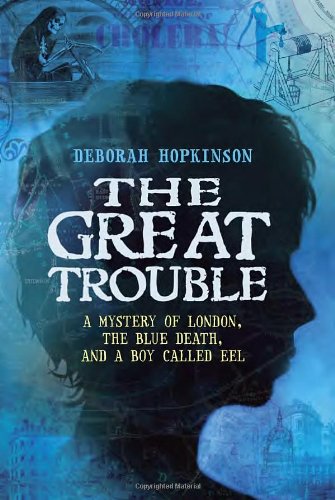 Publisher's Note:
Eel has troubles of his own: As an orphan and a "mudlark," he spends his days in the filthy River Thames, searching for bits of things to sell. He's being hunted by Fisheye Bill Tyler, and a nastier man never walked the streets of London. And he's got a secret that costs him four precious shillings a week to keep safe.

But even for Eel, things aren't so bad until that fateful August day in 1854—the day the Great Trouble begins. Mr. Griggs, the tailor, is the first to get sick, and soon it's clear that the deadly cholera—the "blue death"—has come to Broad Street.

Everyone believes that cholera is spread through poisonous air. But one man, Dr. John Snow, has a different theory. As the epidemic surges, it's up to Eel and his best friend Florrie to gather evidence to prove Snow's theory before the entire neighborhood is wiped out.

Part medical mystery, part survival story, and part Dickensian adventure, Deborah Hopkinson's The Great Trouble is a celebration of a fascinating pioneer in public health and a gripping novel about the 1854 London cholera epidemic.

Backmatter includes an author's note, time line, and further reading suggestions.
This book was sent to Compass Book Ratings for review by Random House
The Great Trouble
by Deborah Hopkinson
Overall Review:
History, mystery, and medicine are three topics that always intrigue me—so when I read the description for The Great Trouble, I knew it would be a fascinating read! I enjoyed the well-researched portrayal of the cholera outbreak that allowed researchers to discover how cholera was spread, and greatly cut down on the number of epidemics in the future. I also enjoyed the character of Eel, and learning more about him as the book went on. Although The Great Trouble stars a thirteen-year-old protagonist, it definitely felt as though it was on the younger end of the middle grade spectrum to me, and as such I found myself wishing several times for a more complex and developed plot and supporting characters; however, the impeccable research and intriguing history behind the book kept me turning pages quickly!
The Great Trouble is a fast, easy, and fascinating read that I think would particularly appeal to fans of classic middle-grade fiction like the works of Elizabeth George Spear.
Content Analysis:
Profanity/language: None
Violence/Gore: A story is told about a character crippling his hand through an accident. Through the first half of the book, several vague hints are made about the main character having suffered some kind of past abuse, but it's never directly alluded to. A boy is kidnapped and later beaten with a strap, but no description is given of the scene.
Sex/Nudity: A young teenage boy kisses a girl on the forehead.
Mature Subject Matter:
Orphans, epidemics of disease, death.
Alcohol / Drug Use:
Allusions are made to adults preferring alcohol over water.
Reviewed By CindyB