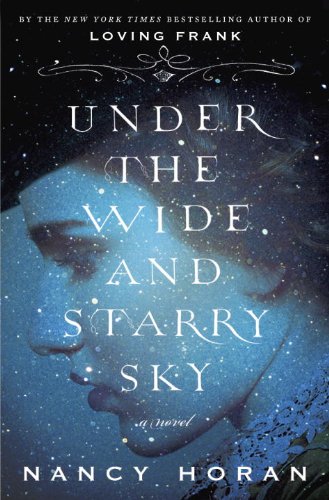 Publisher's Note:
TODAY SHOW BOOK CLUB PICK

From Nancy Horan, New York Times bestselling author of Loving Frank, comes her much-anticipated second novel, which tells the improbable love story of Scottish writer Robert Louis Stevenson and his tempestuous American wife, Fanny.

At the age of thirty-five, Fanny Van de Grift Osbourne has left her philandering husband in San Francisco to set sail for Belgium—with her three children and nanny in tow—to study art. It is a chance for this adventurous woman to start over, to make a better life for all of them, and to pursue her own desires. Not long after her arrival, however, tragedy strikes, and Fanny and her children repair to a quiet artists' colony in France where she can recuperate. Emerging from a deep sorrow, she meets a lively Scot, Robert Louis Stevenson, ten years her junior, who falls instantly in love with the earthy, independent, and opinionated "belle Americaine."

Fanny does not immediately take to the slender young lawyer who longs to devote his life to writing—and who would eventually pen such classics as Treasure Island and The Strange Case of Dr. Jekyll and Mr. Hyde. In time, though, she succumbs to Stevenson's charms, and the two begin a fierce love affair—marked by intense joy and harrowing darkness—that spans the decades and the globe. The shared life of these two strong-willed individuals unfolds into an adventure as impassioned and unpredictable as any of Stevenson's own unforgettable tales.
Under The Wide and Starry Sky
by Nancy Horan
Overall Review:
I can remember a card game I would play with my siblings when I was a child; it was called "Authors". Each playing card had the face of a classical author on it, and a title of one of the author's books. When you had collected all the works by one author, you had a set. Whoever collected the most sets won. I was first introduced to Robert Louis Stevenson in this way. I had yet to read any of his books, even A Child's Garden of Verses. I had the impression he was a regal man and somewhat of a scholar. He didn't seem very intriguing to me, after all, he was only a dead man who used to write boring books.
Little did I know how interesting his life really was, how he struggled at times and rejoiced in wealth in others; who he loved and who he hated; how he lived and how he died. All of these things and more are revealed to us in this magnificent historical fiction novel by Nancy Horan. I wasn't quite sure if I should invest time in this book--simply reading the flap of the dust jacket told me this book was more than a light, mindless read. I am quite glad that I decided to take the plunge and read it. I was left feeling more knowledgeable and interested in the life of Louis and his wife Fanny. Their lives were rough, but entertaining to learn about. I have not read Horan's previous novel, but I will have to, now that I have experienced her writing. This book is not one you will want to miss.
Content Analysis:
Profanity/Language: 3 religious exclamations; 12 mild obscenities; 3 religious profanities; 1 derogatory name; 3 anatomical terms.
Violence/Gore: A man is suspected to commit suicide; a character falls violently ill and dies; a character briefly describes experiencing another character beating a dog; a character discovers a dead body on front stoop, this is briefly depicted; a group of natives are mentioned to be at war and some are beheaded by their enemies; a man dies suddenly, but not violently.
Sex/Nudity: A married man and woman have sex multiple times, brief & non-detailed; character mentions/reports that a married man employs whores; it is mentioned that a married man frequents a brothel; a man and woman kiss several times; an art student describes a nude model (non-sexual).
Mature Subject Matter:
Depression, infidelity.
Alcohol / Drug Use:
Adults drink; adults smoke; a woman is mentioned to be slightly addicted to laudanum.
Reviewed By Lydia