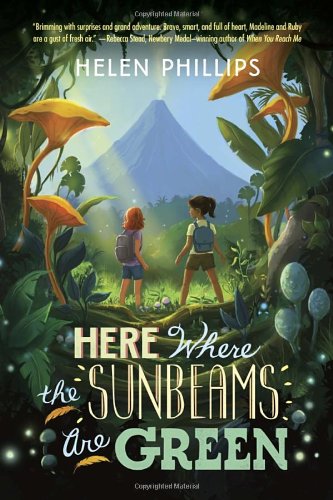 Publisher's Note:
Mad's dad is the Bird Guy. He'll go anywhere to study birds. So when he's offered a bird-tracking job in Central America, his bags are packed and he's jungle bound.

But going bird tracking in the jungle and disappearing completely are very different things, and when the Very Strange and Incredibly Creepy Letter arrives, Mad can't shake the terrible feeling that her father is in trouble.

Roo, Mad's younger sister, is convinced that the letter is a coded message. And their mom is worried, because the letter doesn't sound like Dad at all. But Mad is sure it's a sign of something sinister.

The only way to get to the bottom of it is to go to Lava Bird Volcano and find their dad themselves. Though they never could have imagined what they're about to discover.

From new talent Helen Phillips, Here Where the Sunbeams Are Green is the story of what can happen when two sisters make some unusual friends, trust in each other, and bravely face a jungle of trouble all to bring their family back together.
This book was sent to Compass Book Ratings for review by Random House
Here Where The Sunbeams Are Green
by Helen Phillips
Overall Review:
I have a soft spot for books set in lush, mysterious tropical jungles, so when I saw the description for Here Where The Sunbeams Are Green, I couldn't resist. (I also love the book's beautifully evocative title!) Although it took me some time to get into the beginning and I found myself put off at first by the narrator's voice, after a chapter or two I was utterly enthralled by Mad, Roo, and their strange and intriguing South American adventure. With just the right amount of mystery, mysticism, and even a dash of romance, Here Where The Sunbeams Are Green was almost impossible to put down. I particularly liked how well Helen Phillips managed to capture the spirit of being almost-thirteen, and how realistic the relationship between the siblings was. As the oldest of six kids, I've had plenty of experience with younger siblings, and I felt like Mad and Roo's complicated blend of exasperation and love was very accurate.
Here Where the Sunbeams are Green would be perfect for a wide variety of middle-grade readers, and for teens and adults who love a good middle-grade adventure. But beware: You might just find yourself itching for a trip to the jungle by the time you're done!
Content Analysis:
Profanity/Language: 10 religious exclamations; 1 mild obscenity.
Violence/Gore: A character is held against their will; characters make verbal threats; a girl is pursued by an adult and she is afraid that he will attack her, but he does not.
Sex/Nudity: There are several (>10) instances of very mild flirtation or of a girl being attracted to a boy. There is one very brief kiss between two young teenagers. A character references skinny-dipping. A few references are made to an adult man having a "crush" on a married woman, but infidelity is never implied.
Mature Subject Matter:
Cruelty to animals, abduction.
Alcohol / Drug Use:
Adults drink alcoholic beverages.
Reviewed By CindyB