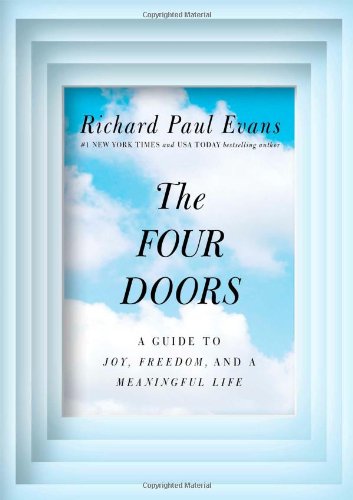 Publisher's Note:
Bestselling novelist Richard Paul Evans has met hundreds of thousands of people and heard many of their stories in his travels over the past two decades. Most of the people he meets are hungry for inspiration; they love his novels because his characters are also searching for meaning and understanding.

The Four Doors is Evans's message to those who seek inspiration in their lives. It began as a talk he gave on the spur of the moment, and over the course of ten years, it has evolved into a message he has shared with successful business people, students, and even addicts and prisoners. It includes stories his readers have told him, stories about great achievers who overcame hardships, and stories about his own struggle growing up in a large family with financial difficulties and a suicidal mother, and about his diagnosis of Tourette's Syndrome later in life. These inspiring stories are woven through his identification and careful explanation of the four doors to a more fulfilling life:

BELIEVE THERE' S A REASON YOU WERE BORN

FREE YOURSELF FROM LIMITATION

MAGNIFY YOUR LIFE

DEVELOP A LOVE-CENTERED MAP

Evans believes that we all want to know the meaning of our lives. In The Four Doors, he shows how even the most quiet life can be full of purpose and joy, if we choose to take that first step over the threshold.
The Four Doors: A Guide to Joy, Freedom, and a Meaningful Life
by Richard Paul Evans
Overall Review:
Anyone who reads and enjoys Richard Paul Evans as a fiction author will most certainly appreciate his talent for writing non-fiction as well. The length of this book is inviting, and undaunting, and I figured if I didn't like it all that much, I wouldn't have too much time invested in it. I'm not sure why I had doubts about this book; perhaps because inspirational non-fiction isn't always as interesting and, well, inspiring as fiction to me.
Despite my slight doubt, I found this book to have lots of good tips and pointers on how not to live your life and how to live your life. Richard has obviously been through some tough times in his life, but he got through them and set up a formula to help himself and others live their lives to their full potential. If you are looking for a book that will lift your spirits and give you hope for better opportunities and relationships, this is a good place to start!
Content Analysis:
Profanity/Language: 1 mild obscenity
Violence/Gore: An adult woman is mentioned to commit suicide.
Sex/Nudity: None

Mature Subject Matter:
Death of a parent.
Alcohol / Drug Use:
None
Reviewed By Lydia