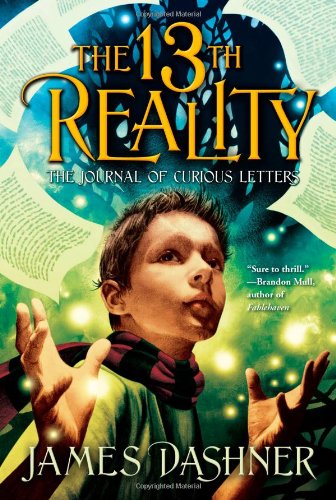 Publisher's Note:
What if every time you made a choice that had a significant consequence, a new, alternate reality was created -- the life that would've been? What if those new Realities were in danger? What if it fell to you to save all the realities? Atticus Higginbottom, a.k.a. Tick, is a regular thirteen-year-old boy living a regular life until the day a strange letter arrives in his mailbox. Postmarked from Alaska and cryptically signed with the initials "M.G.," the letter informs Tick that dangerous -- perhaps even deadly -- events have been set in motion that could result in the destruction of reality itself. M.G. promises to send Tick twelve riddles that will reveal that on a certain day, at a certain time, at a certain place, something extraordinary will happen.
This book was sent to Compass Book Ratings for review by Shadow Mountain
The 13th Reality: The Journal of Curious Letters
by James Dashner
Overall Review:
The 13th Reality – The Journal of Curious Letters by James Dashner is a Science Fiction adventure fit for any inquisitive young person. Have you ever wondered what Quantum Physics is? Have you ever wondered if your destiny was more than the average middle schooler? If these questions have ever crossed your mind you will enjoy The 13th Reality. The puzzles and letters will keep you guessing as you travel with Tick and his new found pen pals to places you never thought possible. As an adult reader I found the book interesting and loved the concepts it presented, but found it incredibly difficult to stay focused in order to finish it. The majority of the story seemed to take place in the last 10 chapters or so. I also found the character descriptions a bit lacking and relied on the artwork to create a "picture" in my mind. I found myself wondering more about the author himself and enjoying his wit, then immersing myself in the story. I did, however, find the characters endearing and loved the wonderful relationship the main character has with his family.
Content Analysis:
There are encounters with scary creatures, a few near miss accidents, trips to graveyards, and the "bad guys" out to get the main characters, but nothing gory or graphic. Small children might find this book a little scary, but children above age 9 should be able to see the difference between reality and fiction and enjoy the adventure of it all.
Mature Subject Matter:
***
Alcohol / Drug Use:
***
Reviewed By SqueakyCleanReads