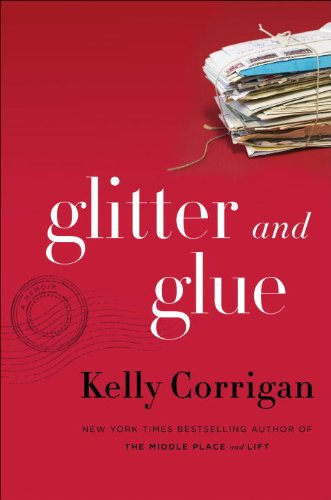 Publisher's Note:
From the New York Times bestselling author of The Middle Place comes a new memoir that examines the bond—sometimes nourishing, sometimes exasperating, occasionally divine—between mothers and daughters.

When Kelly Corrigan was in high school, her mother neatly summarized the family dynamic as "Your father's the glitter but I'm the glue." This meant nothing to Kelly, who left childhood sure that her mom—with her inviolable commandments and proud stoicism—would be nothing more than background chatter for the rest of Kelly's life, which she was carefully orienting toward adventure. After college, armed with a backpack, her personal mission statement, and a wad of traveler's checks, she took off for Australia to see things and do things and Become Interesting.

But it didn't turn out the way she pictured it. In a matter of months, her savings shot, she had a choice: get a job or go home. That's how Kelly met John Tanner, a newly widowed father of two looking for a live-in nanny. They chatted for an hour, discussed timing and pay, and a week later, Kelly moved in. And there, in that house in a suburb north of Sydney, 10,000 miles from the house where she was raised, her mother's voice was suddenly everywhere, nudging and advising, cautioning and directing, escorting her through a terrain as foreign as any she had ever trekked. Every day she spent with the Tanner kids was a day spent reconsidering her relationship with her mother, turning it over in her hands like a shell, straining to hear whatever messages might be trapped in its spiral.

This is a book about the difference between travel and life experience, stepping out and stepping up, fathers and mothers. But mostly it's about who you admire and why, and how that changes over time.
This book was sent to Compass Book Ratings for review by Ballantine Books
Glitter and Glue: A Memoir
by Kelly Corrigan
Overall Review:
Simply put, Glitter and Glue is a tribute to mothers. Author Kelly Corrigan pens this witty and poignant memoir as she looks back on two specific events in her life: her time as a nanny in Australia and her cancer scare. Both experiences help Corrigan understand and reminisce about her own mom and the role of motherhood in general.
Corrigan does a remarkable job of balancing the book's mood. Her travels, nights out with her friend, and light-hearted anecdotes about her mother help counter the book's heavier content. There isn't a lot that occurs in this memoir; in fact, I kept waiting for some great, miraculous event to take place, and when none did, I was left a bit disappointed. Despite the lack of plot action, Glitter and Glue is an entertaining and thought-provoking memoir.
Content Analysis:
Profanity/Language: 11 religious exclamations; 16 mild obscenities; 2 derogatory names; 6 scatological words; 2 anatomical words; 1 offensive hand gesture; 4 f-word derivatives.
Violence/Gore: Report of a child being spanked; a teenager is slapped by her mother.
Sex/Nudity: Two incidents of kissing; a few sexual references and reported incidents of sexual activity; a mention of a pornographic magazine.
Mature Subject Matter:
Stealing, death of a family member, terminal illness.
Alcohol / Drug Use:
Characters frequently drink and smoke.
Reviewed By Rachel