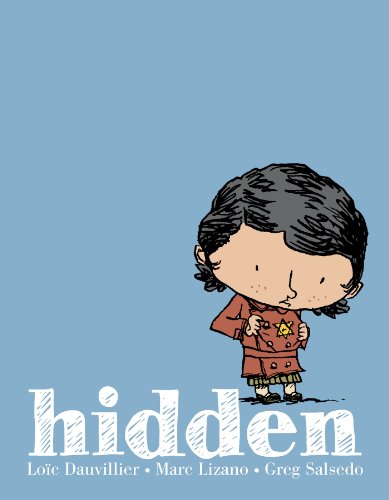 Publisher's Note:
In this gentle, poetic young graphic novel, Dounia, a grandmother, tells her granddaughter the story even her son has never heard: how, as a young Jewish girl in Paris, she was hidden away from the Nazis by a series of neighbors and friends who risked their lives to keep her alive when her parents had been taken to concentration camps.

Hidden ends on a tender note, with Dounia and her mother rediscovering each other as World War II ends . . . and a young girl in present-day France becoming closer to her grandmother, who can finally, after all those years, tell her story. With words by Loïc Dauvillier and art by Marc Lizano and Greg Salsedo, this picture book-style comic for young readers is a touching read.
This book was sent to Compass Book Ratings for review by First Second Books
Hidden
by Loic Dauvillier
Overall Review:
Hidden is a beautifully told story that will educate even young children on some of the issues of the Holocaust without overexposing them to all of its horrors. Loic Dauvillier gently reveals the confusion and terror of Nazi-occupied France in a way that excites one's empathy but doesn't cause too much stress. Marc Lizano and Greg Salsedo's lovely artwork tells of sadness and fear, but gives an equal dose of love, friendship, loyalty, and compassion.
A child could read this story and not come away traumatized--a rarity for books about issues this heavy. It would be even better as a read-aloud or read-with-an-adult book. Small children who haven't been exposed to the history of the Holocaust won't even notice that so much is missing, but they'll feel empathy for the characters.
Without discussion, an older reader might not understand the story fully, because so many events are glossed over. But the book definitely has the potential to inspire dialogue. It's a sweet, lovely introduction into the unheralded difficulties the French experienced at this horrific time in world history.
Content Analysis:
Profanity/Language: None
Violence/Gore: Sounds of scuffling and breaking items are heard from another room; a character is taken away by police; a character slaps another character.
Sex/Nudity: Two characters kiss briefly; a character tells about a humiliating experience in which he was required to expose himself.
Mature Subject Matter:
War, racism, imprisonment, starvation, hiding from Nazis, loss of a family member.
Alcohol / Drug Use:
None
Reviewed By Leslie