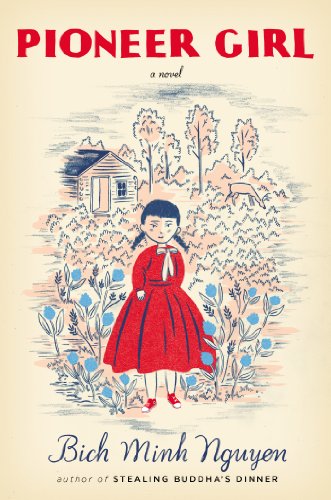 Publisher's Note:
From an award-winning author, a novel about a Vietnamese American family's ties to The Little House on the Prairie

Jobless with a PhD, Lee Lien returns home to her Chicago suburb from grad school, only to find herself contending with issues she's evaded since college. But when her brother disappears, he leaves behind an
object from their mother's Vietnam past that stirs up a forgotten childhood dream: a gold-leaf brooch, abandoned by an American reporter in Saigon back in 1965, that might be an heirloom belonging to Laura Ingalls Wilder. As Lee explores the tenuous facts of this connection, she unearths more than expected—a trail of clues and enticements that lead her from the dusty stacks of library archives to hilarious prairie life reenactments and ultimately to San Francisco, where her findings will transform strangers' lives as well as her own.

A dazzling literary mystery about the true origins of a time-tested classic, Pioneer Girl is also the deeply moving tale of a second-generation Vietnamese daughter, the parents she struggles to honor, the missing brother she is expected to bring home—even as her discoveries yield dramatic insights that will free her to live her own life to its full potential.
Pioneer Girl: A Novel
by Bich Minh Nguyen
Overall Review:
The cover of this book reminded me of illustrations seen on Lois Lenski's books for young readers. Books I used to read back when I was in grade school, and enjoyed for the wholesome stories they told of life back in the olden days. Pioneer Girl has nothing to do with Lois's works though. Instead, it relates more to Laura Ingalls Wilder's book by the same name. Thus, if you enjoyed stories of Laura in the Big Woods as a child, I think you should read this book.
There is a part in the beginning of this book that reveals a secret, and foolishly I felt a rush of excitement as I discovered what the secret meant. I felt as though I were the one that had put the pieces together to make sense of what the characters had already found. The rest of the story is like this somewhat--letting the reader feel as though they are a step ahead of the characters, when in reality the reader is not. I was so enthralled by the story this book told that I had a hard time setting it down. It weaves a tale that is fictional, but has a significant amount of true facts thrown in; making it easy for me as a reader to believe the story to be partially true. I will admit, as I began to read this book, I found myself looking at the cover and synopsis several times, just to make sure it really was fiction.
Review of Advance Reader Copy
Content Analysis:
Profanity/Language: 3 mild obscenities; 2 religious profanities; 1 anatomical term; 4 F-word derivatives
Violence/Gore: None

Sex/Nudity: A man and woman have sex casually, brief scene, no explicit detail; rape is mentioned, almost as a joke; a character jokes about stripping.
Mature Subject Matter:
None
Alcohol / Drug Use:
Adults drink; teen drug use mentioned.
Reviewed By Lydia