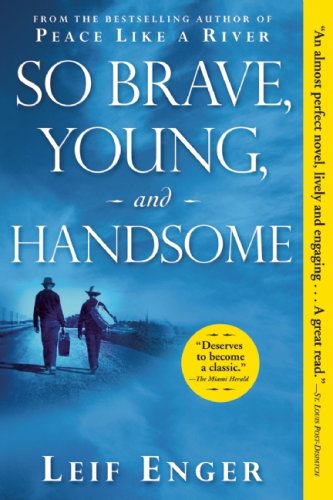 Publisher's Note:
Now in paperback, the new novel by Leif Enger, author of the million-copy best seller, Peace Like a River, is a lively, big-hearted redemption tale; an unforgettable, picaresque Western yarn.
In 1915 Minnesota, writer Monte Becket has lost his sense of purpose. His only success long behind him, Monte lives simply with his wife and son until he befriends outlaw Glendon Hale. Plagued by guilt over abandoning his wife two decades ago, Glendon aims to go back West on a quest for absolution. As the modern age marches swiftly forward, Monte agrees to travel into Glendon's past, leaving behind his own family for a journey that will test the depth of his loyalties and morals, and the strength of his resolve. As they flee the relentless ex-Pinkerton who's been hunting Glendon for years, Monte falls ever further from his family and the law, to be tempered by a fiery adventure from which he may never get home.
With its smooth mix of romanticism and gritty reality, So Brave, Young, and Handsome examines one ordinary man's determination as he risks everything in order to understand what it's all worth, and follows an unlikely dream in the hope it will lead him back home.
So Brave, Young, and Handsome
by Leif Enger
Overall Review:
Mr. Enger's second novel, So Brave, Young, and Handsome, is set in the early 1900's when the American West is changing forever. Narrated in the first person by a frustrated novelist, Monte Beckett, the story involves several other characters--an aging train robber, his pursuer, and a young man picked up along the way. Moderate time is given to all these characters and it results in a meandering storyline that lacks focus. Although this is a journey of self-discovery and re-birth for Monte (and those journeys rarely take a straight course), it made it difficult for the reader to become emotionally invested in the characters or their plights; this put a drag on the story and kept it emotionally distant.
Mr. Enger uses a sparse voice and a meter that is perfect for conveying both the time period and the characters in this story. Although he certainly knows how to put the pen to the page, this novel wasn't as engaging as his first, Peace Like a River. Mr. Enger is a quality writer so I am interested to see what he will write next.
Content Analysis:
Profanity/Language: 1 derogatory name.
Violence/Gore: A few reports of separate incidences where someone is killed gunshot; characters struggle by hitting, kicking, etc.; report of a scalping; report of broken bones from bronco-busting; a fist fight resulting in severe injury and ultimately death; character is shot; character bites another character; report of death in a fire and finding a hand; characters come upon a character who has been killed, mention of blood; character hit with object; shoot out resulting in death, non-detailed; report of killing an animal.
Sex/Nudity: Characters kiss; reference to a woman being a "paid companion".
Mature Subject Matter:
Evasion of the Law, Crime (Murder, Robbery), Death
Alcohol / Drug Use:
Adults drink (sometimes to excess) and smoke.
Reviewed By Cindy