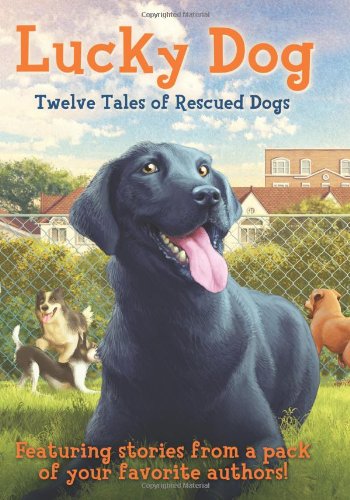 Publisher's Note:
A collection of short stories from favorite authors, all about dogs and the kids who love them. Proceeds will be donated to RedRover, an organization that helps animals in need!

This collection is full of heartwarming and hilarious stories about the Pawley Rescue Center, where rescued dogs find their way into hearts and homes. You'll meet Foxtrot, a feisty Pomeranian who can't bear the thought of leaving her best friend. And Beatrice, whose bark is definitely worse than her bite. And then there's Pumpkin, one of the 101 Chihuahuas who turn life at the center upside down. Whether drooling, dueling, or just fooling around, these captivating canines will show you why the dog is kid's best friend!

LUCKY DOG features sweet and silly stories about playful pups and the kids who love them by some of your favorite authors: Randi Barrow, Marlane Kennedy, Elizabeth Cody Kimmel, Kirby Larson, C. Alexander London, Leslie Margolis, Jane B. Mason and Sarah Hines Stephens, Ellen Miles, Michael Northrop, Teddy Slater, Tui T. Sutherland, and Allan Woodrow.
This book was sent to Compass Book Ratings for review by Scholastic Press (A Scholastic Imprint)
Lucky Dog: Twelve Tales of Rescued Dogs
by Various Authors
Overall Review:
LUCKY DOG: TWELVE TALES OF RESCUED DOGS is just the kind of book you need to read if you love dogs and you want a heart-lifting reading moment. The twelve short stories are written by different authors with all the stories sharing the same setting, Pauley Rescue Center, and some of the same characters: Mr. Cole, manager of the center; Dr. Mehta, vet; Nora Clark, receptionist. Some of the stories even share some of the same dogs. These three elements provide a binding cord among stories and promote a better reading experience for younger readers.
The stories are written from many different viewpoints—including the dogs themselves. There is no mistaking the voice of Foxtrot, the hyper Pomeranian, or Buddy, the Boston terrier, who loves a little girl who is afraid of him. The tales vary in their conflicts so each is fresh and interesting. The reader will enjoy how the dogs impact traditional families, kids with divorced parents, foster parents, and single moms.
Although there are twelve tales, the main theme remains constant throughout, i.e. rescue dogs are as wonderful and unique as their human owners. The formatting of the book is designed for young readers because the print is large and each story runs about 15 pages long. Each story has the added bonus of a short paragraph about the author. Not surprisingly, many of the authors own dogs.
Young boys and girls alike will enjoy this book especially if they have or want to have a dog in their lives. They will learn about different dog breeds and that dogs do indeed pick their humans--as this reviewer well knows after being gifted a border collie who promptly adopted not me, but my father as his human. This book would be a great read aloud for parents because it lends itself to one story a night, the pacing is never slow, and every story is entertaining with a different twist.
Content Analysis:
Profanity: None
Violence/Gore: None
Sex/Nudity: None
Mature Subject Matter:
None
Alcohol / Drug Use:
None
Reviewed By Marilyn