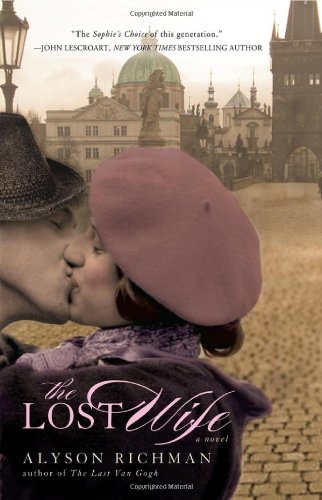 Publisher's Note:
A rapturous novel of first love in a time of war-from the celebrated author of The Rhythm of Memory and The Last Van Gogh.
In pre-war Prague, the dreams of two young lovers are shattered when they are separated by the Nazi invasion. Then, decades later, thousands of miles away in New York, there's an inescapable glance of recognition between two strangers...

Providence is giving Lenka and Josef one more chance. From the glamorous ease of life in Prague before the Occupation, to the horrors of Nazi Europe, The Lost Wife explores the power of first love, the resilience of the human spirit- and the strength of memory.
The Lost Wife
by Alyson Richman
Overall Review:
The Lost Wife by Alyson Richman is a book that stays with you long after the last page. Narrated by Lanka and Josef, the book's two main characters, the story's jumps from pre-World War II Prague to present-day New York City, and later from the prison work camp Terezin to Auschwitz, the infamous concentration camp in Poland.
The Lost Wife is more than just a love story, but a moving tale about family, art, and how tragedy changes us. The book opens with one of the most powerful first chapters I've ever read and drew me in instantly. Richman's writing is amazingly poetic and beautiful considering the haunting subject matter. With a helpful Reader's Guide, The Lost Wife would make a fantastic book club read. I highly recommend this compelling read.
Content Analysis:
Profanity/Language: 2 mild obscenities, 1 derogatory name, 4 scatological words, and 5 f-word derivatives.
Violence/Gore: Several second-hand reports of violence; a few scenes of violence involving beatings and fist fights; two scenes where property is destroyed; several non-detailed scenes of violent death involving shootings and gas chambers; several scenes of violent death the include details of blood and gore.
Sex/Nudity: Frequent incidents of kissing; several non-sexual depictions of nudity, mostly involving life in the concentration camps; several sexual references; a character patted down by a SS officer; a few implied incidents of sexual activity; two incidents of touching areas normally covered by a bathing suit; one scene of nudity with sexual innuendo; one scene of sexual activity without explicit detail, between minors and two scenes between adults.
Mature Subject Matter:
War, murder, the Holocaust, concentration camps and gas chambers, stealing, abortion, death of family members and friends, miscarriage.
Alcohol / Drug Use:
Drinking occurs.
Reviewed By Rachel