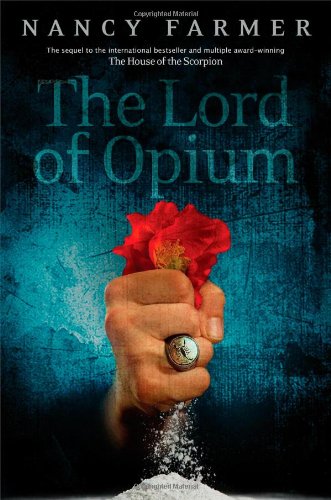 Publisher's Note:
Matt has always been nothing but a clone—grown from a strip of old El Patron's skin. Now, at age fourteen, he finds himself suddenly thrust into the position of ruling over his own country. The Land of Opium is the largest territory of the Dope Confederacy, which ranges on the map like an intestine from the ruins of San Diego to the ruins of Matamoros. But while Opium thrives, the rest of the world has been devastated by ecological disaster—and hidden in Opium is the cure.

And that isn't all that awaits within the depths of Opium. Matt is haunted by the ubiquitous army of eejits, zombielike workers harnessed to the old El Patron's sinister system of drug growing—people stripped of the very qualities that once made them human.

Matt wants to use his newfound power to help, to stop the suffering, but he can't even find a way to smuggle his childhood love, Maria, across the border and into Opium. Instead, his every move hits a roadblock, some from the enemies that surround him…and some from a voice within himself. For who is Matt really, but the clone of an evil, murderous dictator?
The Lord of Opium
by Nancy Farmer
Overall Review:
"How much wickedness could you do in the service of good before it turned into pure evil?"

An excellent question and only one of many ethical questions posed by the novel The Lord of Opium. Set in the year 2137, this book hits upon important and relevant issues that our modern society is just beginning to deal with. This is an excellent discussion book with complex themes that also manages to have an interesting plotline and a realistic main character, Matt.
The Lord of Opium immediately picks up the story where its predecessor book, The House of the Scorpion, concludes. The House of the Scorpion was written in 2002 so the large time gap between the publications presents a challenge to the reader as they try to recall all the characters and prior events. There is a helpful map and a cast of characters in the front of the book and Author Nancy Farmer does weave in some back story, which in this case is helpful for readers who originally read the first book more than a decade ago. Those who have not read The House of the Scorpion should do so before picking up this novel.
The House of the Scorpion was both a Newbery Honor Book and a Michael L. Prinz Honor Book. For this reason, it can be found shelved in both the children and the young adult sections of libraries. However, because of the heavy-hitting themes, some of which are quite distrubing (such as cloning for the purpose of harvesting organs), both The House of the Scorpion and The Lord of Opium feel more like a young adult read. This novel will have wide-appeal with older readers and is a great guy-read selection.
Content Analysis:
Profanity/Language: 2 religious exclamations; 11 mild obscenities; 1 derogatory name.
Violence/Gore: Many second-hand, brief, non-detailed reports of violence, including but not limited to--death by poisoning, reference to acts of violence from first book, status update on wars, a hand "melting", surgery performed without anesthesia to be cruel, animals dissected in experiments, women and children put in a swimming pool and shot, person "sacrificed" in a scientific surgery, body parts being harvested from a 7 year old boy, the hunting and killing of animals for sport, a character has been killed.
Scenes include a brief, non-detailed knife fight resulting in injuries; character "retrained" using torture/pain; animal killed in an accident; a stun gun is used on a character; character hits another character; character presses tack into another character's skin; dead bodies are seen (non-detailed); character slaps another character; a character dies from complications; a character's hand is "melted"; a character is killed (non-detailed); characters killed in a blast; character is shot resulting in severe injuries (non-detailed).
Sex/Nudity: Report that a character "mooned" someone; reference to mating system; characters kiss.
Mature Subject Matter:
Cloning, harvesting organs/body parts from clones, human rights, enslavement, environmental & ecological destruction, drug wars, drug cartels and drug use, ethics, war, child labor.
Alcohol / Drug Use:
Adult drinks alcoholic beverage. An adult character confesses to being an opium addict. Drug cartels and the drugs they produce are discussed. How opium is grown and harvested is described briefly. The drug trade is omni-present as it is a major theme/background of the book.
Reviewed By Cindy