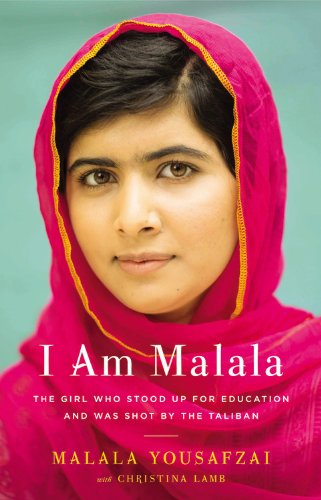 Publisher's Note:
When the Taliban took control of the Swat Valley in Pakistan, one girl spoke out. Malala Yousafzai refused to be silenced and fought for her right to an education.

On Tuesday, October 9, 2012, when she was fifteen, she almost paid the ultimate price. She was shot in the head at point-blank range while riding the bus home from school, and few expected her to survive.

Instead, Malala's miraculous recovery has taken her on an extraordinary journey from a remote valley in northern Pakistan to the halls of the United Nations in New York. At sixteen, she has become a global symbol of peaceful protest and the youngest nominee ever for the Nobel Peace Prize.

I AM MALALA is the remarkable tale of a family uprooted by global terrorism, of the fight for girls' education, of a father who, himself a school owner, championed and encouraged his daughter to write and attend school, and of brave parents who have a fierce love for their daughter in a society that prizes sons.

I AM MALALA will make you believe in the power of one person's voice to inspire change in the world.
I Am Malala
by Malala Yousafzai
Overall Review:
"Our people have become misguided. They think their greatest concern is defending Islam and are being led astray by those like the Taliban who deliberately misinterpret the Quran. We should focus on practical issues. We have so many people in our country who are illiterate. And many women have no education at all."
I Am Malala is the powerful and inspiring memoir by young Malala Yousafzai. Malala was shot in 2012 by the Taliban for speaking in favor of girls receiving an education. The memoir includes a lot of history mixed in with Malala's personal reflections (which I assume was included by co-author Christina Lamb), but I didn't feel like these inclusions detracted from Malala's story.
Malala provides a fascinating point of view, not just as a citizen of ravaged Pakistan, but because she is a girl in a male-dominated country. So much of what I know about the Middle East comes from snippets on the news, so I was shocked by Malala's vivid descriptions of the Taliban ruling her beloved Swat Valley, the widespread government corruption, and the oppression women face on a daily basis. Reading I am Malala allowed me to appreciate my education and the freedoms that I often take for granted. This is a must-read book!
Content Analysis:
Profanity/Language: 3 religious exclamations
Violence/Gore: Several verbal threats and frequent second-hand reports of violence involving battle and the violent reign of the Taliban; several instances of violence including physical beatings and gunfire; property is destroyed by floods and bombings; frequent non-detailed scenes of violent death include citizens being killed by suicide bombers, drone attacks and other bombings, earthquake and building collapses, and gunfire. An individual is shot at close range in a scene of blood and gore, but survives.
Sex/Nudity: A few sexual references are made.
Mature Subject Matter:
Stealing, murder, corruption, war, Taliban, suicide bombings and drone attacks, gender discrimination, religious discrimination, and religious extremism.
Alcohol / Drug Use:
Several mentions of people smoking.
Reviewed By Rachel