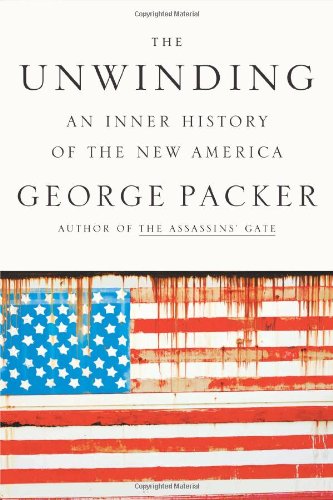 Publisher's Note:
The 2013 National Book Award Winner
A New York Times Bestseller
Selected by New York Times' critic Dwight Garner as a Favorite Book of 2013
One of Amazon's Best Books of 2013
A New York Times Notable Book of 2013
A Washington Post Best Political Book of 2013
An NPR Best Book of 2013
A New Republic Best Book of 2013
One of Publishers Weekly's Best Nonfiction Books of 2013
A Kirkus Reviews Best Nonfiction Book of 2013

A riveting examination of a nation in crisis, from one of the finest political journalists of our generation

American democracy is beset by a sense of crisis. Seismic shifts during a single generation have created a country of winners and losers, allowing unprecedented freedom while rending the social contract, driving the political system to the verge of breakdown, and setting citizens adrift to find new paths forward. In The Unwinding, George Packer, author of The Assassins' Gate: America in Iraq, tells the story of the United States over the past three decades in an utterly original way, with his characteristically sharp eye for detail and gift for weaving together complex narratives.
The Unwinding journeys through the lives of several Americans, including Dean Price, the son of tobacco farmers, who becomes an evangelist for a new economy in the rural South; Tammy Thomas, a factory worker in the Rust Belt trying to survive the collapse of her city; Jeff Connaughton, a Washington insider oscillating between political idealism and the lure of organized money; and Peter Thiel, a Silicon Valley billionaire who questions the Internet's significance and arrives at a radical vision of the future. Packer interweaves these intimate stories with biographical sketches of the era's leading public figures, from Newt Gingrich to Jay-Z, and collages made from newspaper headlines, advertising slogans, and song lyrics that capture the flow of events and their undercurrents.
The Unwinding portrays a superpower in danger of coming apart at the seams, its elites no longer elite, its institutions no longer working, its ordinary people left to improvise their own schemes for success and salvation. Packer's novelistic and kaleidoscopic history of the new America is his most ambitious work to date.
The Unwinding: An Inner History of the New America
by George Packer
Overall Review:
The Unwinding offers readers an eye-opening view of America's past thirty years. In the book, author George Packer shares stories of famous figures (Joe Biden, Newt Gingrich, and Jay-Z to name a few) and contrasts them with the lives of several average Americans. Packer refuses to sugarcoat facts and often includes every sad and devastating detail when discussing the Recession, collapse of the housing market, and state of Washington.
It's difficult to read The Unwinding without feeling its emotion. Packer writes with both passion and urgency as he outlines what he believes is causing America to spiral out of control. Despite its hefty size, The Unwinding is incredibly compelling and hard to put down.
Content Analysis:
Profanity/Language: 4 religious exclamations, 18 mild obscenities, 7 derogatory names, 21 scatological words, 18 anatomical terms, 3 offensive hand gestures and 55 f-word derivatives
Violence/Gore: Several reports of violence involving suicide and beatings; multiple incidents of violence involving drive-by shootings, stabbings, fights, shootings and fights; a scene involving destruction of property; several non-detailed scenes of violent death; a man is murdered with mention of blood and gore.
Sex/Nudity: Several sexual references and numerous reported incidents of sexual activity; two mentions of pornography; a character is groped with few details given.
Mature Subject Matter:
Racism, suicide, fraud, theft, homosexuality, infidelity, adultery, illegitimacy, abandonment, alcoholism, underage drinking, smoking, drug abuse, incest, sexual abuse, divorce, death of family member, death of friends, war, gangs, homelessness
Alcohol / Drug Use:
Drinking, smoking, using chewing tobacco and recreational drug use; several characters are "drug dealers"; several characters deal with alcoholism; underage drinking occurs.
Reviewed By Rachel