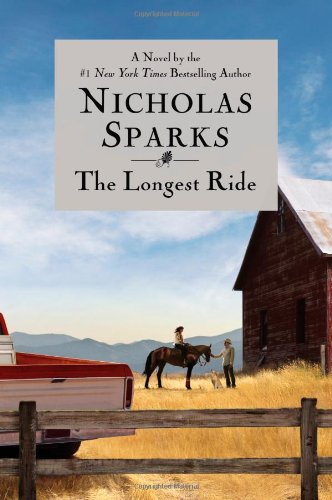 Publisher's Note:
In the tradition of his beloved first novel, The Notebook, #1 New York Times bestselling author Nicholas Sparks returns with the remarkable story of two couples whose lives intersect in profound and surprising ways.

Ira Levinson is in trouble. Ninety-one years old and stranded and injured after a car crash, he struggles to retain consciousness until a blurry image materializes beside him: his beloved wife Ruth, who passed away nine years ago. Urging him to hang on, she forces him to remain alert by recounting the stories of their lifetime together - how they met, the precious paintings they collected together, the dark days of WWII and its effect on them and their families. Ira knows that Ruth can't possibly be in the car with him, but he clings to her words and his memories, reliving the sorrows and everyday joys that defined their marriage.

A few miles away, at a local bull-riding event, a Wake Forest College senior's life is about to change. Recovering from a recent break-up, Sophia Danko meets a young cowboy named Luke, who bears little resemblance to the privileged frat boys she has encountered at school. Through Luke, Sophia is introduced to a world in which the stakes of survival and success, ruin and reward -- even life and death - loom large in everyday life. As she and Luke fall in love, Sophia finds herself imagining a future far removed from her plans -- a future that Luke has the power to rewrite . . . if the secret he's keeping doesn't destroy it first.

Ira and Ruth. Sophia and Luke. Two couples who have little in common, and who are separated by years and experience. Yet their lives will converge with unexpected poignancy, reminding us all that even the most difficult decisions can yield extraordinary journeys: beyond despair, beyond death, to the farthest reaches of the human heart.
The Longest Ride
by Nicholas Sparks
Overall Review:
When I first started reading this book, I was wondering how exactly all the characters would be connected. Ira and Ruth; Luke and Sophia...two couples who have important stories to tell, but why are we learning these intimate details about their lives and relationships? It takes a while, but when you arrive at the end of the book, you will realize how these stories are intertwined. The author does an amazing job at keeping the reader hanging until the last chapter.
If you have read anything by Nicholas Sparks in the past, you will know he has a knack for writing a good, mostly wholesome love story with a bit of adventure and maybe some mystery thrown in. The Longest Ride is a story of first love, fighting for that love, and maybe even dying for that love. This book is narrated by three different characters, who each have a story of pain and love to tell. I would highly recommend this book--but be warned that you might finish it with a few tears running down your cheeks. If Nicholas knows how to write a good story, he also knows how to make a reader cry with his (at times) heart-wrenching stories.
Content Analysis:
Profanity/Language: 5 mild obscenities
Violence/Gore: A group of characters get in a fistfight two times; a character contemplates dying when stranded in a crashed car; a character mentions considering suicide; a character briefly describes injuries sustained in a war, blood is mentioned once; an character has a heart attack; a character is mentioned to die from an aneurysm; a child shows signs of physical abuse at home; a professional bull rider is attacked and trampled by a bull, almost being killed.
Sex/Nudity: Adults kiss multiple times; a woman is asked if she slept with a man; a man and woman are mentioned to make love multiple times, with no explicit details; a man is referred to as "sexy"; a man is mentioned to cheat on his girlfriend more than once; an unmarried couple is mentioned to have sex multiple times, no explicit details mentioned.
Mature Subject Matter:
Contemplation of death, partying.
Alcohol / Drug Use:
Adults drink beer; adults are mentioned to smoke.
Reviewed By Lydia