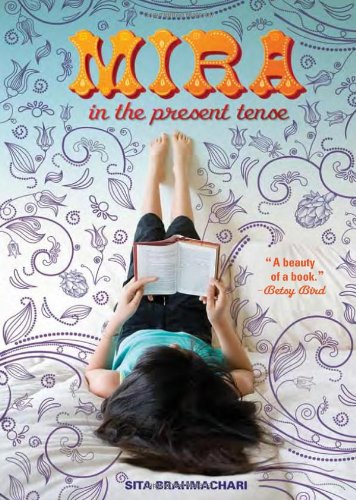 Publisher's Note:
Twelve-year-old Mira comes from a chaotic, artistic, and outspoken family in which it's not always easy to be heard. As her beloved Nana Josie's health declines, Mira begins to discover the secrets of those around her and also starts to keep some of her own. She is drawn to mysterious Jide, a boy who is clearly hiding a troubled past. As Mira is experiencing grief for the first time, she is also discovering the wondrous and often mystical world around her. An incredibly insightful, honest novel exploring the delicate balance--and often injustice--of life and death. But at its heart, it's a celebration of friendship, culture--and life.
This book was sent to Compass Book Ratings for review by Albert Whitman & Co.
Mira in the Present Tense
by Sita Brahmachari
Overall Review:
I began reading MIRA IN THE PRSENT TENSE by Sita Brahmachari with some hesitancy. My experience with books about major life changes in the lives of teenagers (especially girls), i.e. puberty, death, and the opposite sex, have not always been good reading experiences. Many of those books felt awkward and almost an invasion of privacy. However, I was in for an enjoyable surprise.
The theme of this novel centers on a young girl's introduction to womanhood physically, mentally, and emotionally. Mira, the main character, is just turning twelve and must say good-bye to a loved one, deal with feelings for a young man in her life, open herself to others during a writing class, stay close to her best friend, and find a prized possession which may be gone forever. As if this were not enough, she has to handle the arrival of puberty-- all the while trying to be a normal person. Needless to say, she faces some challenges.
This book works on many levels. It is rich in colorful and intriguing characters. For example, Mira's grandmother Nana Josie is an artsy, feisty, and wise woman who just happens to be dying of cancer and is painting her own coffin. She has engaged Mira in helping her plan the designs and pick the colors which leads to meeting many of Nana Josie's unusual friends. Jide´ Jackson, another example of great characterization, is a fellow student in a special writing project whose background is connected to the tragedy of Rwanda which has taken the lives of his sister and his birth parents. There are more characters that are essential to the narrative and Ms. Brahmachari skillfully counteracts and blends them to form a smooth plotline.
While the plot develops over just three months, the pacing of the book seems much slower. It gives the reader time to know the characters well and to see how they dramatically change during those months. The author allows the reader to be with them at an important turning point in their lives.
Even though it is not the main theme, there is an underlying multicultural strand in MIRA IN THE PRESENT TENSE. African, Irish, Indian, Jewish, Rwandan, English, and other cultures are represented as a background to the main story. It brings a depth of history and experience to provide support without overwhelming the story.
This book is really about life with all its joy and sadness. It is told with such grace and honesty that I think young girls will find it especially appealing.
Content Analysis:
Profanity/Language: None
Violence/Gore: None
Sex/Nudity: Two main characters hold hands. During two separate conversations, two main characters kiss several times.
Mature Subject Matter:
Death of family members, dying of cancer, war, puberty.
Alcohol / Drug Use:
None
Reviewed By Marilyn