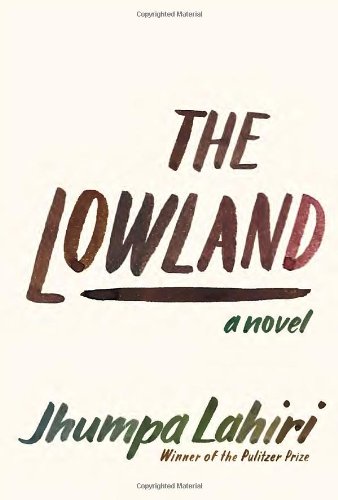 Publisher's Note:
National Book Award Finalist
Shortlisted for the 2013 Man Booker Prize
From the Pulitzer Prize-winning, best-selling author of The Namesake comes an extraordinary new novel, set in both India and America, that expands the scope and range of one of our most dazzling storytellers: a tale of two brothers bound by tragedy, a fiercely brilliant woman haunted by her past, a country torn by revolution, and a love that lasts long past death.

Born just fifteen months apart, Subhash and Udayan Mitra are inseparable brothers, one often mistaken for the other in the Calcutta neighborhood where they grow up. But they are also opposites, with gravely different futures ahead. It is the 1960s, and Udayan—charismatic and impulsive—finds himself drawn to the Naxalite movement, a rebellion waged to eradicate inequity and poverty; he will give everything, risk all, for what he believes. Subhash, the dutiful son, does not share his brother's political passion; he leaves home to pursue a life of scientific research in a quiet, coastal corner of America.

But when Subhash learns what happened to his brother in the lowland outside their family's home, he goes back to India, hoping to pick up the pieces of a shattered family, and to heal the wounds Udayan left behind—including those seared in the heart of his brother's wife.

Masterly suspenseful, sweeping, piercingly intimate, The Lowland is a work of great beauty and complex emotion; an engrossing family saga and a story steeped in history that spans generations and geographies with seamless authenticity. It is Jhumpa Lahiri at the height of her considerable powers.
The Lowland: A Novel
by Jhumpa Lahiri
Overall Review:
Having never read a book by Jhumpa Lahiri, I had no idea what I would be in for when I started reading her newest novel. I had heard a lot of high-praise for it, but kept putting off dedicating time to reading it. I am glad I finally became tired of seeing it sitting on my shelf. It was well worth the read.
This is the stunning story of two brothers; Udayan and Subhash living in India in the 1960's. Growing up during a time of political turmoil, the boys each have differing views on what kind of control the government should have over the lives of innocent citizens. The younger brother, Udayan is involved in citizen uprisings despite the worry and admonishment of his older brother. When one of the brothers makes a life-altering mistake, the other brother digs deep into his heart for the loyalty that he has always carried with him to rescue his brother and best friend.
This book is complicated at times, slow at others, but the more exciting parts and deep moral lessons make up for the less desirable sections. If you enjoy historical novels with strong storylines, then this book is for you.
Content Analysis:
Profanity/Language: None
Violence/Gore: Government officials shoot and kill four citizens; the government is blamed for the starvation of innocent citizens; a character is stabbed and killed, blood is mentioned briefly; a group of characters attack and kill an authority figure, the method of killing is described along with a brief mention of blood; a second-hand account of a character hanging self, the dead body is mentioned briefly.
Sex/Nudity: A woman realizes she is falling in love with one of her female students, they experiment briefly but then break off the relationship, brief scene, non-descriptive; a man and woman have sex multiple times, nudity is mentioned briefly, brief scene, non-descriptive; a woman's body is described in a sexual way; a woman's naked body is described sexually multiple times; a man is mentioned to be dating a married woman; adults kiss multiple times; a man touches a woman several times in a sexual way, brief scene, non-descriptive.
Mature Subject Matter:
Government cruelty, child abandonment, divorce.
Alcohol / Drug Use:
Adults drink; adults smoke; minors smoke.
Reviewed By Lydia