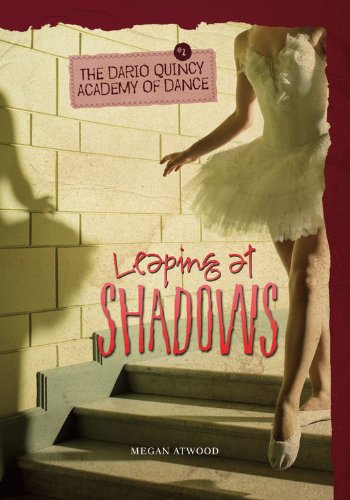 Publisher's Note:
Madeleine's the newest arrival at the famed Dario Quincy Academy of Dance. She's worked hard to gain admission, and she's determined not to lose her scholarship. That means not asking too many questions when her antique necklace goes missing, and certainly not breaking curfew. So how does she find herself exploring the creepy tunnels that run underneath the school? As if rivals at dance practice weren't bad enough, Madeleine begins to suspect that there's an ancient evil on the academy grounds. And when Madeleine and her rivals join together, sneaking out at night to explore the school's depths, the evil might just follow them back upstairs.
This book was sent to Compass Book Ratings for review by Lerner Publishing Group
Leaping at Shadows
by Megan Atwood
Overall Review:
Combine beautiful dancing, developing friendships, and a creepy mystery, and you've got an exciting story that's hard to put down. Megan Atwood does a great job hooking her readers into her stories with skillfully descriptive writing, crisp dialogue, and a plot with more than one twist.
I especially enjoyed the realistic scenarios that most teens will be able to relate to on some level. No, I'm not talking about attending the private ballet school for the best dancers in the country, but the loneliness that comes from being the new girl, the difficulties of making friends with people who are probably jealous of one's abilities, and the awkwardness of trying to fit in in a new place. The excitement of solving a mystery kept the story going while all the real issues developed in the background.
Leaping at Shadows is a quick, easy read that ends with the implication that there will be more mysteries for these new friends to solve, and that suits me just fine.
Content Analysis:
Profanity/Language: 1 religious exclamation; 2 mild obscenities; 1 scatological word.
Violence/Gore: Several characters get bloody noses; a character is threatened with a knife without injury.
Sex/Nudity: None
Mature Subject Matter:
Cults (few details are given).
Alcohol / Drug Use:
None
Reviewed By Leslie