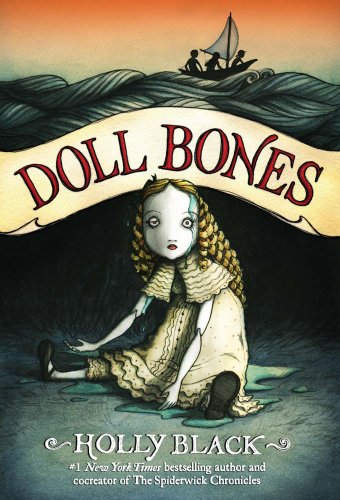 Publisher's Note:
Discover the award-winning Doll Bones, from Holly Black, the cocreator of the Spiderwick Chronicles. A Kirkus Reviews Best Book. A School Library Journal Best Book. A Booklist Editor's Choice Books for Youth. A Publishers Weekly Best Children's Book. A NYPL "100 Titles for Reading and Sharing." A 2013 Goodreads Choice award nominee. A People Magazine "Best New Kids Book." Six starred reviews!

Zach, Poppy, and Alice have been friends forever. And for almost as long, they've been playing one continuous, ever-changing game of pirates and thieves, mermaids and warriors. Ruling over all is the Great Queen, a bone-china doll cursing those who displease her.

But they are in middle school now. Zach's father pushes him to give up make-believe, and Zach quits the game. Their friendship might be over, until Poppy declares she's been having dreams about the Queen—and the ghost of a girl who will not rest until the bone-china doll is buried in her empty grave.

Zach and Alice and Poppy set off on one last adventure to lay the Queen's ghost to rest. But nothing goes according to plan, and as their adventure turns into an epic journey, creepy things begin to happen. Is the doll just a doll or something more sinister? And if there really is a ghost, will it let them go now that it has them in its clutches?
Doll Bones
by Holly Black
Overall Review:
Having been a very imaginative child that was obsessed with dolls, this book jumped out at me when I read the synopsis. I'm not really into ghosts and the paranormal, but I figured I could deal with a little of that to read a book that sounded so appealing. Luckily, the ghostly parts of this story didn't overpower the book. Instead, they leant a nice mystical feeling to it.
This is the story of three friends who enjoy spending their free time playing with their beloved dolls. When they are interrupted in their play by those pesky things called bedtime, dinner, and school, they obediently listen to their parents and put their dolls away, only to pick up where they left off as soon as they can. One day one of the kids decides he is "too old" to play with dolls anymore, and abandons the fantasy world the group has created. Secretly though, he wishes he could hold on to his childhood and the imagined lives of the dolls forever.
When the chance to go on one last adventure with the dolls arises, he finds it too good to pass up. But what if the world they had been imagining all along was actually real? What if the dolls aren't as lifeless as the kids think they are? If you like a slightly ghostly story, and especially if you like dolls, then you might want to read this book. This story is fun and adventurous, and the ending is quite charming.
Content Analysis:
Profanity/Language: None
Violence/Gore: Fantasy violence among dolls; one scary scene in a cemetery involving ghosts; a man is suspected to have murdered his daughter and having her cremated, some blood is mentioned briefly; a group of kids break into a public library; a character harasses a group of kids on a bus; a doll is imagined to be haunted.
Sex/Nudity: A grade-school boy and girl are attracted to each other, and the boy asks the girl out on a date to the movies.
Mature Subject Matter:
Breaking and entering, bullying, ghosts.
Alcohol / Drug Use:
Adults smoke.
Reviewed By Lydia