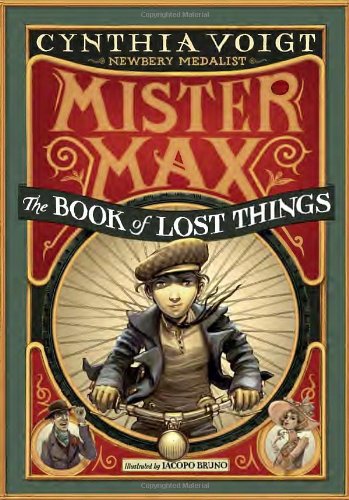 Publisher's Note:
Newbery medalist Cynthia Voigt presents a rollicking mystery in three acts!

Max's parents are missing. They are actors, and thus unpredictable, but sailing away, leaving Max with only a cryptic note, is unusual even for them. Did they intend to leave him behind? Have they been kidnapped?

Until he can figure it out, Max feels it's safer to keep a low profile. Hiding out is no problem for a child of the theater. Max has played many roles, he can be whoever he needs to be to blend in. But finding a job is tricky, no matter what costume he dons.

Ironically, it turns out Max has a talent for finding things. He finds a runaway child, a stray dog, a missing heirloom, a lost love. . . . So is he a finder? A detective? No, it's more. Max finds a way to solve people's problems—he engineers better outcomes for them. He becomes Mister Max, Solutioneer.

Now if only he could find a solution to his own problems . . .
This book was sent to Compass Book Ratings for review by Random House
Mister Max: The Book of Lost Things
by Cynthia Voigt
Overall Review:
From the moment I read the description of Cynthia Voigt's Mister Max: The Book of Lost Things, I knew it was the kind of book I had to read. History, mystery, and a plucky hero (along with a great cast of supporting characters) make for a compelling and interesting read, and as I turned the last page I found myself wishing that the next book was already in print.
My one complaint about the book was that, although the novel feels like it's intended to be a historical mystery, the setting is very vague and there are absolutely no details that tie it to a certain place (either real or imagined). This was consistent throughout the book and felt to me like a big flaw in an otherwise wonderful book. With the exception of that issue, though, Mister Max was a delightful read, and I'll be eagerly anticipating the sequel!
Mister Max would be a great read for teens of all ages, and adults who enjoy a good, evenly-paced mystery with just the right amount of danger and intrigue (but not too much!).
Content Analysis:
Profanity/Language: One religious exclamation.
Violence/Gore: A house is robbed and a character is attacked and receives minor injury (a small amount of blood is described). Two supporting characters disappear under mysterious circumstances, and there is an implication that something shady is involved.
Sex/Nudity: Two feuding lovers (young adults) reconcile. A husband boasts of how much he loves his wife.
Mature Subject Matter:
Disappearances, child abandonment
Alcohol / Drug Use:
Adults drink alcohol.
Reviewed By CindyB